His return a year ago prompted many Days of our Lives fans to wonder if the show was going to explore its glory years. Now, as a new head writer takes over the helm and budget cuts force the show to pare down, Billy Warlock (Frankie Brady) will join the growing list of stars exiting the NBC soap.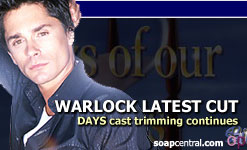 Warlock's exit doesn't come as much of a surprise. The actor's current storyline will essentially end with the already announced departures of Melissa Reeves (Jennifer Deveraux) and Matthew Ashford (Jack Deveraux). While the show could most certainly explore new story opportunities for the character, it is believed that Frankie does not fit into the plans that new head writer Hogan Sheffer has for the show.
After a 14-year hiatus from Days of our Lives, Warlock returned to the show in June 2005. But after just a few months with the show, Warlock's character was backburnered and saw little in the way of airtime.
Prior to his return to Days of our Lives, Warlock appeared on ABC's General Hospital as AJ Quartermaine. His stint on GH lasted from 1997 through 2003 with a brief return in 2005 which saw his on-screen alter ego killed off.
Things in Warlock's personal life are going much better. The actor wed his DAYS co-star Julie Pinson (Billie Reed) last month.
Though a final airdate for Warlock has not yet been announced by the network, insiders hint that the actor's final DAYS stint will come sometime in late October or early November.