Nadia Bjorlin (Chloe Lane) will be returning to Days of our Lives during the big November Sweeps period. The announcement and confirmation by a show executive ends weeks -- maybe even years -- of speculation regarding the actress' possible return. And unlike her most recent stints with the NBC soap, this time around the actress has signed a "long-term" contract.
Bjorlin originally joined the cast of Days of our Lives in 1999 and remained a popular, contract player through June 2003. The actress then returned for a handful of episodes over the next year-and-a-half before returning on a regular, recurring basis in December of 2005. She then exited the show in September 2005.
Upon leaving Days of our Lives in 2005, Bjorlin landed a featured role in the motion picture Redline. The movie opened weakly and grossed only about $7-million at the box office. The film cost about $25-million to make. Still, the movie did put the actress on the radar for many non-soap fans. The actress had been rumored as a possible candidate to play Wonder Woman in a movie scheduled for a 2009 release.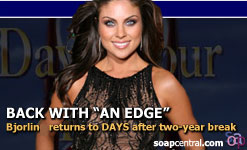 Bjorlin's upcoming storyline will see Chloe featured heavily in storyline with Shawn, Belle and Philip. Days of our Lives' executive producer Ken Corday has said that Chloe will return to town with "an edge."
A first airdate has not yet been announced by NBC, but it will come sometime in November.