To make sure that allergy symptoms don't sneak up on her like an evil twin, Sweeney has a five-point checklist to make sure she's always prepared: avoid triggers when possible, wash your hands, act fast, be prepared, and know your options.
While an estimated 50 million Americans suffer from some sort of allergy, Sweeney is reluctant to say that this is a "social issue" story that soaps should address.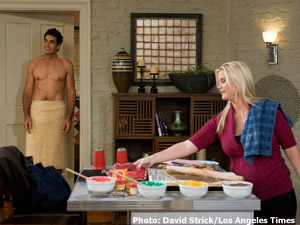 "I think soaps dance a fine line between relevance and topical, relatable topics. We couldn't tell a Dynasty storyline right now. It was really awesome when the Salem Police Department couldn't get Rafe a job because of the economy," Sweeney explains. "It's a slippery slope -- we tell stories where characters get lobotomies and their heads aren't even shaved. Tony [DiMera] had open-heart surgery and his chest wasn't even shaved."
When Sweeney moves to her second job, hosting NBC's primetime weight loss competition, The Biggest Loser, things couldn't be more realistic. Sweeney began hosting the show in 2007 and admits that she was surprised when she was asked to succeed Caroline Rhea as host of the series.
"I was a bit surprised, but thrilled because the show makes such a difference and is so inspiring," Sweeney says.
At at time when some lash out at reality television for being mean-spirited or contrived, Sweeney is proud to hold her show up as an example of reality television done right.
"We're not that kind of show. The producers chose me because of who I am and what I bring to the table," Sweeney adds. "I can't be that cold-hearted, objective, removed host. My role is be their cheerleader -- rooting for all of them equally. It's an amazing feeling when [contestants] step on that scale and look to me with such pride, and want to celebrate with me."
When you spend hours and hours each day in character, sometimes it's hard to remember who you really are. Sweeney confesses that it happened to her recently -- in the most unusual of places.
"When I was in labor with Megan, I was in my hospital room with my best friend and my husband, and they were gossiping -- okay, fine. We were all gossiping, and I instinctively gestured towards a boom. I was so used to being in a hospital bed, that I thought there would actually be a microphone there," Sweeney laughs. "I was like, 'Shh! We don't want them to be able to hear us.' Then I realized I was pointing to the ceiling. My husband thought I was crazy, but when I went back to work and told all my castmates they got a good laugh out of it."
It's that type of reaction that Sweeney seems to thrive on. Whether it's laughs from co-stars or clenched teeth and raised eyebrows from viewers, it's all about the reaction.
"I relish playing out a scene when I know the audience is screaming and wanting to throw things at the screen," Sweeney replies, with just a hint of Sami's sassiness in her voice.

RETURN TO PART ONESweeney recalls her first day at DAYS and how allergies nearly sidelined her.