One year ago, many soap opera critics were predicting the end of Days of our Lives. The show had just announced that it would be cutting long-time veterans -- and arguably one of the show's most popular couples -- Deidre Hall (Marlena Evans) and Drake Hogestyn (John Black) from the cast. The decision was motivated by the show's ever-shrinking budget and a mandate from Sony, the show's distribution company, to cut costs or face cancellation.
In fact, in January 2007, NBC Universal Television president Jeff Zucker announced that Days of Our Lives was "unlikely to continue [on NBC] past 2009."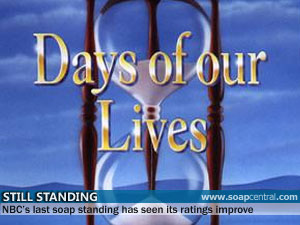 Instead of the forecast ratings doom and gloom, Days of our Lives has seen its ratings gradually increase. The show inched into second place (tied with CBS's The Bold and the Beautiful) in the Nielsen ratings for the week of November 16. It marked the first time in five-and-a-half years that the NBC soap ranked that high. [Editor's Note: In the ratings for the week of November 23, DAYS saw its ratings drop a tenth-of-a-point and its ranking dropped back to third.]
What was happening during the week of June 7, 1994 when DAYS last hit the number two spot? Marlena learned that Victor was alive. Patrick's superiors warned him to kill Jennifer -- or else. Bo and Hope frantically searched for Shawn as Jan threatened to kill Belle. Want to relive the entire week of action? Check out our Daily Recaps Archives for the full week of recaps -- and daily recaps dating all the way back to 1996.
Turning the clock back to 2009, Days of our Lives is the only soap to have more viewers this year than last year: DAYS has gained more than half a million viewers over the same period in 2008. About 3.1 million people tune into Days of our Lives every weekday.
When Days of our Lives was renewed in 2008, it was given a new 18-month contract. It was, however, stated that if "certain parameters" on the show were met, the show's contract would be extended through September 2011. An explanation of what those parameters were was never provided. It is also unclear how the acquisition of NBC by cable giant Comcast will impact Days of our Lives' future on the network. Regardless, fans are hoping that the soap's improved ratings are one of the parameters being sought, and that sand will continue to pass through the renowned hourglass for many years to come.
To what does DAYS owe its sudden uptick in the ratings department? We'd like to hear your thoughts. Join us on our soapcentral.com message board for a special discussion about this article.
---
---