Darin Brooks (Max Brady) will bring Max Brady home to Salem later this year for a handful of episodes. The actor's return will come less than a year after he exited Days of our Lives to pursue an opportunity in primetime.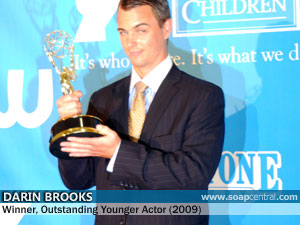 That opportunity was well-timed. After announcing his exit from NBC's sole soap, Brooks earned a Daytime Emmy as Outstanding Younger Actor in September 2009. It marked the first win by a DAYS performer in that category in 21 years. Brooks had been nominated in the same category the previous year.
Upon leaving Days of our Lives in June 2009, Brooks headed to Montreal to work on the pilot for a sitcom called Blue Mountain State. The pilot tested successfully, and the series was picked up for a full-season run by Spike, the cable channel geared towards younger male viewers. The show follows three incoming freshmen attending a fictional Midwestern college, as they try to quickly adapt to college life and juggle football, girls, classes, and nonstop hazing.
Brooks plays Alex, a talented quarterback who'd much rather party than put in the hard work required to be a superstar. Blue Mountain State debuted on January 12, and new shows air every Tuesday. Check your local listings for the time and channel in your area.
NBC is keeping the length of Brooks's return under wraps. However, the Emmy winner is expected to appear in at least a handful of episodes starting sometime in March.
Photo: Brandon Gonzales/Soap Central
---