Arianne Zucker (Nicole Walker) is back on her Days of our Lives grind. The actress returned to work this week from her maternity leave.
"Top of the morning to ya! Today is my first day back in Salem," the actress tweeted on January 25. "Wish me luck. I am a little rusty."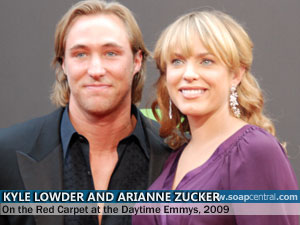 As previously reported, Zucker and her husband, Kyle Lowder (Rick Forrester, The Bold and the Beautiful; ex-Brady Black, DAYS) welcomed a baby girl in early December. The couple met on the set of Days of our Lives and were married in August 2002.
Zucker's return ends a two-month maternity leave that began back in November. Due to Days of our Lives' tape schedule, however, the actress' last on-screen appearance was just a couple of weeks ago -- on January 6.
In related news, Valerie Wildman (Fay Walker) was also back at Days of our Lives on January 25 taping scenes.
Both Zucker and Wildman will be seen on-screen in March.
Photo: Brandon Gonzales/Soap Central
---
---