In a surprising casting decision, Days of our Lives has dropped Stacy Haiduk as its prison warden -- before the actress even had her first airdate. The reason? A scheduling conflict. The role will be recast and a show rep says the NBC soap welcomes the opportunity to work with Haiduk again in the future.
"For all you guys out there who were all set to watch me on DAYS I have some bad news," Haiduk reported on her Facebook page. "DAYS has dropped me. It all started when I booked a guest spot on a new show for FOX, Ride-Along. The show will shoot in Chicago and I have to leave town for that. There was a conflict in scheduling so FOX pushed me to their second week. But when ONE day was still in conflict, instead of working things out DAYS decided to drop me."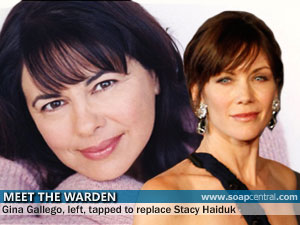 For Haiduk, the firing must smack of a sense of bitter déjà vu. Earlier this year, the actress was let go from CBS's The Young and the Restless, where she played the dual roles of Emily Petersen and Patty Williams.
Haiduk's Y&R dismissal shocked many because the actress had been carrying much of the show's story for months. In an ironic twist, it may have been the actress' on-screen time that resulted in her firing. According to insiders, some viewers weren't thrilled with the actress' storyline.
A matter of hours after being informed that her time on The Young and the Restless was over, Haiduk received a call from Days of our Lives. The actress was hired to play the recurring role of a prison warden.
Haiduk taped scenes for three episodes that will air as originally planned in September. It is unclear how the show will alter its storyline now that Haiduk has been dropped.
"Due to scheduling conflicts for Stacy Haiduk, the role of Warden Smith will now be played by Gina Gallego. Gina will appear on DAYS in the beginning of October," a DAYS spokesperson tells Soap Central. "We are huge fans of Stacy's and would love to have her back on DAYS in the future if something becomes available. "
Gallego has a long resume, with roles in primetime and in feature films. The actress also previously appeared in daytime, playing Dr. Gina Santana on The Bold and the Beautiful in the mid-1990s, Generations' Gina in 1990, and Santana Andrade on Santa Barbara in 1985.