THE 38th ANNUAL DAYTIME EMMY AWARDS
Michael Park repeats, Laura Wright wins overdue Emmy
by
Dan J Kroll

Posted Monday, June 20, 2011 12:13:43 AM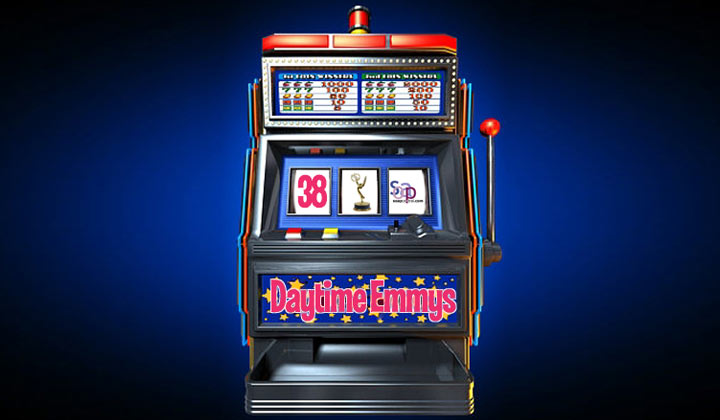 Michael Park
(
Jack Snyder
,
As the World Turns
Though some of the big names from Emmys past were absent from this year's Outstanding Lead Actor field, the five talented actors that did earn nominations are most definitely household names.
Christian LeBlanc (Michael Baldwin, The Young and the Restless) has been nominated for an Emmy nine times, and he's won on three different occasions. Ricky Paull Goldin (Jake Martin, All My Children) has received nominations for his work on both AMC and Guiding Light. James Scott (E.J. DiMera, Days of our Lives) received his second consecutive nod as Lead Actor, and was one of just two DAYS stars to receive acting nominations this year.
The other two nominees this year were not in attendance: Maurice Benard (Sonny Corinthos, General Hospital) had a previous engagement in Ohio, and last year's winner, Michael Park (Jack Snyder, As the World Turns), was in New York, where he currently stars in the Broadway musical,
How to Succeed In Business Without Really Trying
.
When Park's name was revealed as the winner, the celebratory moment was also marked with a bit of melancholy. With this being As the World Turns' last year of Emmy eligibility, Park would be the last-ever winner from the 54-year old soap.
Fittingly, Park's Emmy submission paired him in scenes with his on-screen love interest, Emmy winner Maura West (Carly Tenney). The episode featured a lakeside heart-to-heart between Jack and Carly, as they decided whether or not they had to permanently go their separate ways and never look back, or risk upsetting everyone's lives in order to get back together.
In another historical tidbit, Park is only the second actor from As the World Turns to win in the Outstanding Lead Actor category. Larry Bryggman (John Dixon) also won twice, in 1984 and 1987.
As the World Turns wraps its impressive Emmy run with 283 total nominations and 62 wins.

IN-DEPTHFind out which other As the World Turns stars have won Emmys.

OUTSTANDING LEAD ACTRESS
Laura Wright
(
Carly Jacks,
General Hospital
Six talented actresses were nominated in the Lead Actress category. Together, the women tallied seven previous Emmy wins and 25 nominations.
For more than 30 years, Colleen Zenk (Barbara Ryan, As the World Turns) appeared on As the World Turns. She received her third nomination this year, her second as Lead Actress. All My Children, which is scheduled to go off the air later this year, placed two actresses on the ballot: Alicia Minshew (Kendall Hart), who received her first Lead Actress nomination this year, and Emmy winner Debbi Morgan (Angie Hubbard). Susan Flannery (Stephanie Forrester, The Bold and the Beautiful) has won four Daytime Emmys, and Michelle Stafford (Phyllis Summers, The Young and the Restless) has been nominated nine times and earned two Emmy wins.
The winner, however, was an actress who has appeared on daytime television for 20 years. She is known to viewers of four different soaps -- Loving, The City, Guiding Light, and her current home, General Hospital. Many fans were surprised to learn that Laura Wright (Carly Jacks) had never been nominated for an Emmy. The actress has, however, been pre-nominated all but one time since 2003.
"Hell, yeah!" Wright whooped upon accepting the award. "This has been 20 years of the best career ever."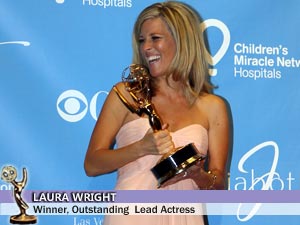 "It's been a pretty emotional moment for me. I didn't even ever consider myself in the same category as any other actor that would deserve a nomination," Wright revealed when asked how it felt to win her first Emmy. "But [when] I worked on Loving and Guiding Light, I was the annoying cheerleader that loved every Emmy, couldn't wait to go to the show, and I was so excited when all of the actors from Los Angeles would come in town [to New York's Radio City Music Hall, where the Daytime Emmys were held for many years.] It was just one big, fun party of celebrating. But I never, ever thought for one second that I would be a part of the group of actors that would be nominated. I was just the cheerleader, and I guess it wasn't until I was getting storylines on Guidling Light where it started being a consideration."
Wright also addressed the dark cloud that hung over this year's Emmy celebration. With ABC's cancellation of All My Children and One Life to Live, as well as GH's uncertain future with the signing of a new Katie Couric talk show, Wright admitted that any Emmy win was a boost for morale.
"Anything helps, and it generates good feelings," Wright said with a broad smile. "And right now with all the negative, it's good to have these great things happening. And it's good that we're getting a lot of attention from it."
As for her approach to playing her General Hospital alter ego, Wright made it clear that she works with the material that is given to her and that she does not attempt to fiddle with scripts.
"It's a hell of a lot more fun for me to figure out a crazy way to do what Carly does than to tell a writer how to do his job," Wright explained. "I learned that from [former GL co-star] Kim Zimmer, by the way."
With her win, Laura Wright becomes only the second General Hospital actress to ever win in the Lead Actress category. The only other winner was Finola Hughes (Anna Devane), who won 20 years ago -- in 1991.