OUTSTANDING LEAD ACTOR
Anthony Geary
(
Luke Spencer
,
General Hospital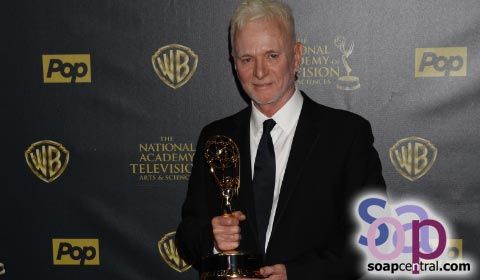 Before Tony Geary took the pressroom stage, The Young and the Restless' executive producer, Jill Farren Phelps, gave him a hug and said, "I love you. Always remember that."
It was a sentiment many NATAS voters have shared, considering this was Geary's eighth Emmy win.
Earlier, as he accepted his award, Geary took a moment to congratulate his fellow nominees.
"Jason Thompson, Billy Miller, Christian LeBlanc -- you guys are the real deal," Anthony Geary said. "It's an honor to be on the short list with you."
As he left the stage, he mused, "Thank you, Academy, for not being sick of me yet!"
Backstage, Geary shared his thoughts with the press on his record-setting win.
"It's never just another one. This is important to me," the actor said of the win. "In fact, the older I get, the more important it becomes, because it's pretty much a young man's game, and I'm one of the oldest people left on the planet."
"They've got that award for young actors, and I'm waiting for the award for old grumpy ones," he joked. "I'd be headlining on that one, hands down."
As for whether or not he expected yet another trophy (he has the most of any lead actor in history, with All My Children's David Canary [ex-Adam Chandler] falling just behind with five wins), Geary says absolutely not. "I work with two of the other actors in the category and I've been a fan of Christian LeBlanc's [Michael Baldwin, The Young and the Restless] for many, many years, so I know those guys do great work," he said. "And I frankly thought the Academy was getting tired of me, so I would have understood if somebody else won."
OUTSTANDING LEAD ACTRESS
Maura West
(
Ava Jerome
,
General Hospital
)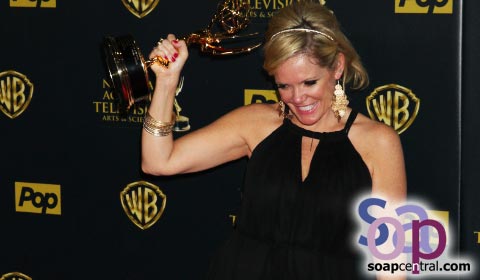 The Young and the Restless' executive producer, Jill Farren Phelps, gave Anthony Geary a heartfelt compliment before he took the pressroom stage, and Geary paid it forward by giving Lead Actress winner Maura West a compliment before she took the stage, as well: "She so deserves this," he raved of his co-star. "She's the hardest working woman in show business."
West, who won in the Lead Actress category in both 2007 and 2010 for her work as As the World Turns' Carly Snyder, returned the favor. "[It's such a] gift that I can work with Tony Geary, and my first day on General Hospital was with Tony Geary," she recalled. "General Hospital has been to gracious to me -- the actors, the incredible crew. I was welcomed like I was going to a family supper. It's just an incredible atmosphere of love and support."
"My daughter Birdie got a big trophy yesterday for her sportsmanship in softball, and I feel like General Hospital gets a big trophy for sportsmanship because they are open to actors coming on board," she continued. "They just welcomed me and said, 'Come on board, let's play.'"
West also thanked Maurice Benard [Sonny Corinthos], "who was in the scenes I submitted for this -- the silly, 'Yeah, let's get down in the crypt!'"
Overcome with emotion, West asked presenter Shemar Moore to hold her for a few moments before she delivered her acceptance speech.
"I really thought that I had my once in a lifetime as an actress," West said, referencing her ATWT role. "And then I met Frank Valentini [and] Ron Carlivati and they introduced me to Ava Jerome. And I got my unbelievable twice in a lifetime. How magical is that?"
While Geary has tallied eight wins in the Lead Actor on his own, General Hospital actress have won just three times in the Lead Actress category. West follows Finola Hughes and Laura Wright as winners.