Only a matter of weeks after his dismissal from CBS's The Bold and the Beautiful, Rick Hearst (ex-Whipple Jones, B&B; ex-Matt Clark, The Young and the Restless; ex-Alan-Michael Spaulding, Guiding Light) has landed a contract role on ABC's General Hospital.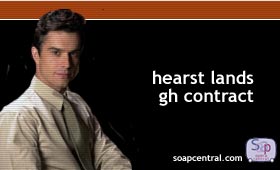 Though the network confirmed both Hearst's addition to the cast as well as a first airdate, the details about his character remain sketchy at best. According to show sources, Hearst will play Ric, though the role has previously the role had been referred to as "Daniel." Ric is described as a mystery man first spotted in South America. Eventually, he'll make the travel to Port Charles and, as you can expect, stir things up with the existing characters.
Hearst most recently appeared on The Bold and the Beautiful. He joined the cast in April, but his stay was relatively brief -- he made his final on-air appearance on the CBS soap on August 29. Hearst was just one of many actors on the show to be released from their contracts as the show changes its focus.
Hearst makes his first General Hospital airdate on November 8.
RELATED STORY: Soap veteran Lane Davies to join GH cast.
RELATED STORY: GH puts out two casting calls.