It's a casting decision that seems to have been made faster than you can say "General Hospital." Greg Vaughan (ex-Diego Guittierez, The Young and the Restless), recently released from The Young and the Restless, has been named General Hospital's new Lucky Spencer.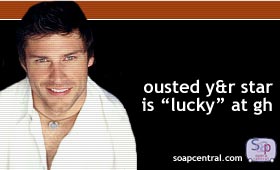 CBS execs handed down the news that Vaughan would be leaving The Young and the Restless in late December. The exit, said a spokesperson for the network was due to the "end of storyline" for Vaughan's character.

Earlier in the month, Emmy winner Jacob Young (Lucky Spencer, General Hospital) announced that he would not be renewing his contract with ABC's top-rated soap. Young cited a desire to focus on his music career as well as primetime opportunities as the reason for his exit.

It was quickly announced that the role of Lucky Spencer would be recast. It would mark the second time that the role had been recast. Young assumed the role from another Emmy winner, Jonathan Jackson.

Vaughan, named one of People Magazine's Sexiest Men Alive, follows in the daunting task of taking over the role from a much-liked and award-winning performer. Additionally, Vaughan is nearly six years older than Young, a fact that might play havoc with the show's storylines.

Young will continue airing into February. Vaughan will assume the role on February 20.