Greg Vaughan (Diego Guittierez) has been released from his contract with The Young and the Restless.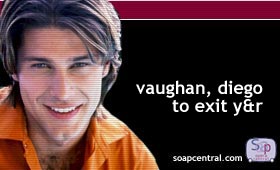 According to a statement from Vaughan's agent, Vaughan "was informed by [Y&R's] executive producer [David Shaughnessy] that he had been let go from the show." The reason, according to the statement, was a lack of storyline for Vaughan's character.
"Greg's a fine actor," a spokesperson for The Young and the Restless stated. "And we thank him for all the contributions he's made to the show. It was the end of contract and end of storyline."
Vaughan is not the only actor to have appeared as Diego. Diego Serrano originated the role of the aptly-named Diego in December 2001. Serrano remained in the role until he was released in April 2002 when show executives decided to take the character in a "new direction." Vaughan joined the cast in May 2002.
Vaughan's final airdate has not yet been announced. He is, however, expected to air until February 2003.