Finola Hughes (Anna Devane) will exit from All My Children this fall. A spokesperson for All My Children has confirmed that the actress will be leaving the show when her contract expires later this year. See related story: Hughes To Depart AMC in Fall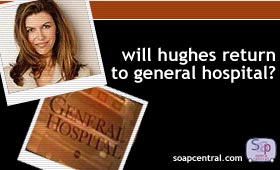 While an All My Children spokesperson confirms that Hughes will depart the show this fall, the rep declined to state whether or not Hughes would be headed back to General Hospital, the show on which she got her start in daytime. In recent interviews, Hughes has stated that while she would love to continue playing Anna Devane, a return to General Hospital is not in her immediate future.
Hughes' desire aside, it may not be feasible for the actress to return to General Hospital. The show is currently loaded with big name talent and it's not clear if the show has enough working capital to afford Hughes. Moreover, with so many other big names, Hughes might not get substantial air time either.
Since soap fans love to speculate, there is some chatter that Hughes' former on-screen daughter, Kimberly McCullough (Robin Scorpio) has reportedly expressed an interest in returning to daytime television. McCullough who took her General Hospital character to All My Children last year is said to prefer appearing on a West Coast based soap. All My Children is filmed in New York City, while General Hospital tapes in Los Angeles. Talks between McCullough and AMC reportedly broke off last year.
In additional casting chatter has CBS's The Young and the Restless wanting McCullough to play the part of Mackenzie Browning. Having Hughes and McCullough return to General Hospital together would be a significant boost to the show, which is currently ABC's top rated soap.
A spokesperson for General Hospital would not comment on Hughes and McCullough's possible futures with the show.

RELATED STORY: HUGHES WILL LEAVE AMC