It was in July 1999 that Hughes made a much anticipated return to daytime television. At the time, landing Hughes was considered to be a major casting coup for All My Children. The identity of Hughes' AMC character was a closely guarded secret and fans from both AMC and GH wondered if Hughes would be reprising her Emmy winning role of Anna Devane, the character she had portrayed on General Hospital from 1985 to 1992. Fans of Anna Devane would eventually get to see her resurface - but not until March 2001. For the first two years of her Pine Valley presence, Hughes played Anna's twin sister, Alexandra. Alex didn't quite catch on with AMC fans and GH fans were likewise disinterested in the character. Moreover, some General Hospital fans were outraged that the supposedly-deceased Anna Devane was "resurrected" on All My Children and not General Hospital. Some fans of only All My Children didn't buy into the network's synergy plan - a process in which characters bounced around from one of the network's soaps to another - and were slow to embrace a character from a soap that they did not watch.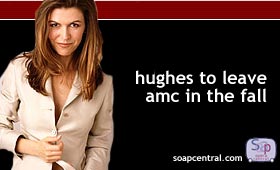 As Hughes prepares to head back to the West Coast where she maintains her permanent residence, AMC fans can find some solace in knowing that the actress might be back in the near future.
"Both ABC and Ms. Hughes are in agreement that, pending storyline and availability, Ms. Hughes will return to the show in a recurring capacity," a spokesperson for ABC tells Soap Central.
Hughes' final on-air appearance as a contract performer is September 11.