Vanessa Marcil (Brenda Barrett) will not be returning to General Hospital any time in the near future. The actress' return has been rumored for months, but the actress and show execs were not able to come to terms on a deal.
It's been a commonplace rumor for the past five years. Every so often, someone, for some reason, creates a stir by announcing that Vanessa Marcil is returning to General Hospital. It's been that way ever since Marcil exited the ABC soap in 2003.
So when rumors surfaced earlier this year that Marcil and ABC were in talks about Marcil possibly reprising her Emmy-winning role, some fans were understandably skeptical. It wasn't until General Hospital head writer Robert Guza, Jr. confirmed that talks actually were ongoing that fans truly started to feel a sense of inevitably about the actress' return.
But like so many times before, fans' hopes have been dashed.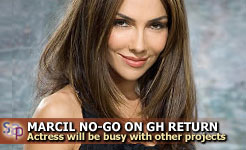 This year's round of rumors started in February when NBC announced that it was canceling the primetime series, Las Vegas. Though a favorite among critics, Las Vegas had failed to gain ratings traction with viewers. Marcil had starred as Sam Marquez on the nighttime drama series from 2003 through the show's final episode.
"I'm in very close contact with [Vanessa]. She wants to make it happen. I would do handstands to make it happen," Guza said of the talks with Marcil during an interview with Soap Opera Digest in August.
Exactly why the talks broke down remains unclear.
Marcil hasn't let the missteps with General Hospital hold her back. The actress has since gone on to snag a recurring role on another primetime series and she's landed a hosting gig for a new reality series.
Marcil returns to NBC to play the role of Josie, a music manager, on Lipstick Jungle. The series, a Sex and the City-styled drama about four female friends, stars Brooke Shields.
In addition to her Lipstick Jungle work, Marcil will host the new reality series Blush: The Search for the Next Great Make-Up Artist for cable's Lifetime network. In the series, contestants will vie for a job with the Max Factor cosmetics company. Makeup artist Charlie Green will co-host as he guides the contestants through their challenges.
Blush premieres on Tuesday, November 11 at 10:00 PM (ET/PT).