Fans anxiously awaiting the return of Vanessa Marcil (Brenda Barrett) to General Hospital may have to wait longer than expected. Just a little over two weeks since the actress confirmed that she and the ABC soap were "trying to make it work," comes a report that the actress has landed yet another primetime gig.
A CBS spokesperson tells Soap Central that Marcil has landed a recurring role on the CBS drama series, Without a Trace. The Daytime Emmy winner will play Kim Marcus, a social worker and potential love interest for Eric Close's Martin. She will first air on March 17th and is currently slated to appear in at least three episodes. Without a Trace airs Tuesdays at 10:00pm.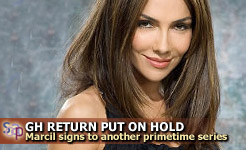 For fans wanting Marcil to return to daytime, this is just the latest time that their hopes of Brenda's return have been dashed. Saying that fans will be "disappointed" is, of course, not entirely accurate. While fans may be upset that they will not get to see Marcil during the daytime hours, most are undoubtedly pleased that the actress is finding success in other projects.
Last year, when NBC announced that it was pulling the plug on its primetime series, Las Vegas, fans whispered that Marcil might soon be reprising her General Hospital role. Just as the whispers grew louder, NBC reached out to Marcil and offered her a recurring role on Lipstick Jungle. That show never quite found its footing, and Lipstick Jungle was pulled from the schedule. The show is not officially canceled -- and may get a second chance next season.
With Lipstick Jungle's demise came the next batch of rumors about Marcil's impending return to General Hospital. What made those rumors different was that they turned out not to be rumors. Marcil herself confirmed that she was, in fact, in talks about a possible General Hospital return.
Marcil made her debut on General Hospital in September 1992. She was most recently seen on the show in 2003.