Is 2009 the year that Vanessa Marcil (Brenda Barrett) finally returns to Port Charles? It's looking more and more that way. Fans had their hopes of a return dashed last year after talks between the Emmy-winning actress and General Hospital executives fell through. Now, though, there is new hope that Brenda might return to Port Charles for the first time in six years.
So what's been the hold-up?
When NBC announced last year that it had canceled the primetime series, Las Vegas, fans immediately began wondering if Marcil would seek employment in her old, daytime stomping grounds. A short time later, though, NBC reined in the actress and signed her to a recurring gig on the Brooke Shields-helmed series, Lipstick Jungle. Unfortunately, NBC pulled the plug on Lipstick Jungle (though there are still some rumblings that the show might get another chance) and Marcil was again out of work. In addition to her scripted work, Marcil also landed the hosting job for the Lifetime reality series, Blush: The Search for America's Greatest Makeup Artist.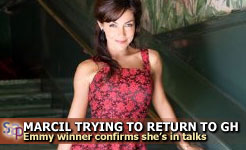 It's no secret that Marcil's fans want to see her back on General Hospital -- some of the more overzealous fans have even fabricated stories about the actress' status with the ABC soap. Visitors to the Soap Central site know that Marcil's name seems to surface every few months in one Internet rumor or another touting her "imminent return." This time, though, Marcil herself confirms in a published interview that she and General Hospital head writer, Bob Guza Jr., are in talks to see if there is a way to finally make a return happen.
"We're trying to make it work again," Marcil tells Soap Opera Digest [Issue date: January 13], confirming the reports that she and General Hospital are in talks. "We were trying to fit it in this past year, but it didn't work out, so maybe in '09 we'll find a way."
Fans are already analyzing every word of the published interview, and some are worried that any return might only last a few months. The actress' previous, much-hyped return to General Hospital in 2002 lasted just five months. Despite the short visit, Marcil earned an Emmy for Outstanding Supporting Actress for the engagement.
Until a deal is worked out, viewers can still catch a glimpse of Marcil on television. The actress recently appeared in the Hallmark Channel's made-for-television movie, The Nanny Express. In the film, Marcil plays the role of Kate, a nanny who ends up having to take care of two rambunctious kids. It's a new type of role for Marcil, one that doesn't involve her being the vixen. The Nanny Express is scheduled to repeat January 9 at 9:00pm, January 18 at 9:00pm, and February 14 at 5:00pm. Please check your local listings for the channel in your area.
Marcil made her debut on General Hospital in September 1992.