It's been long rumored, but General Hospital has now confirmed that it has recast the role of Sonny Corinthos and Carly Corinthos Jacks's son, Michael. The decision will age the character slightly and dash the hopes of fans who hoped for the return of the actor best known for portraying the role.
Newcomer Drew Garrett will take over the role of Michael Corinthos from Dylan Cash in April, but the actor won't have any lines to learn for at least a few weeks. Michael, who is currently in a vegetative state following a shooting in the spring of 2008, won't regain consciousness until May.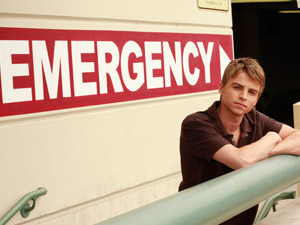 Garrett joins the cast of General Hospital with just one other professional acting gig under his belt. Last year, Garrett appeared in an episode of CBS's primetime drama series, Criminal Minds.
Sources told Soap Central last year that Cash's ouster from GH came as a total surprise to the young actor. Cash made his General Hospital debut in March 2002 at age 7. Three years later, Cash was offered a contract with the show and, subsequently, his role became much more prominent. During his six years with General Hospital, Cash earned numerous awards, including a 2003 Young Artist Award in the Best Performance in a TV Series by a Young Actor Ten or Younger category.
During the initial whispering about a possible Michael recast, former As the World Turns star Jesse Lee Soffer's (ex-Will Munson) name was brought up as a possible candidate for the role. The only crink in that plan was the age difference between Cash and Soffer. Soffer was nearly twice as old as Cash, and a sudden "aging" of Michael might be too jarring for viewers.
Cash last aired on December 29, 2008. Garrett, meanwhile, will first air on April 24.