Dylan Cash (Michael Corinthos III) has been let go from General Hospital. The young actor, who has grown up on the ABC soap, was let go for storyline reasons. His character was accidentally shot by a bullet meant for his father, Sonny Corinthos. According to a source close to the actor, Cash was blindsided by his ouster.
Cash made his General Hospital debut in March 2002 at age 7. In 2005, Cash was placed on contract with the show and, subsequently, his role became much more prominent. During his six years with General Hospital, Cash earned numerous awards, including a 2003 Young Artist Award in the Best Performance in a TV Series by a Young Actor Ten or Younger category.
Initial web gossip had young Michael losing his life, but it appears unlikely that the writers would have ever killed off a child - especially not the son of two of the show's main characters. Instead, Michael will remain comatose for an unspecified period of time.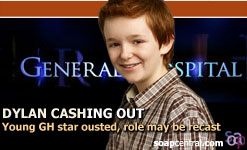 There is now speculation that Michael will be "aged" while he is comatose and emerge from his unconscious state as a young adult. Aging occurs when a character is off-screen for a period of time and returns older than what the character would have been had the character remained on-screen.
If the show does move forward with plans to recast Michael, former As the World Turns Jesse Lee Soffer (ex-Will Munson) is believed to be a leading candidate for the part. The Emmy-nominated actor exited As the World Turns last month after having spent three-and-a-half years in Oakdale. At 24 years of age, Soffer is nearly twice as old as Cash.
Officially a General Hospital spokesperson states that it is not network policy to comment on rumors or contracts. A setside source tells Soap Central that any casting changes will come later rather than sooner, hinting that a recast will not come until later this year
A final airdate for Cash has not yet been released by the network.