Sean Kanan (ex-Deacon Sharpe, The Bold and the Beautiful; ex-AJ Quartermaine, General Hospital) appeared in a Los Angeles courtroom on September 17th to enter a not guilty plea to charges that he was driving under the influence earlier this summer.
Kanan was arrested on August 18th and charged with two counts: driving under the influence of alcohol and driving with a blood alcohol of 0.08% or greater. Both charges are misdemeanors.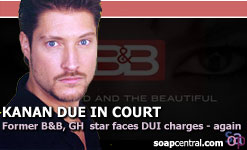 According to court papers obtained by celebrity gossip site TMZ.com, prosecutors claim that Kanan "willfully and unlawfully [drove] a vehicle while being under the influence of an alcoholic beverage and a drug and under the combined influence of an alcoho1ic beverage and a drug."
Kanan was previously convicted of DUI in December 1998. If found guilty a second time around, Kanan faces a minimum sentence of 96 hours (4 days) in jail. If hit with the maximum sentence, Kanan could face up to one year in prison.
Kanan appeared on CBS's The Bold and the Beautiful from 2000 to 2005 and has frequently been the subject of return rumors. From 1993 to 1997 he appeared on ABC's General Hospital. In addition to his soap credits, Kanan appeared as Ralph Macchio's nemesis in the movie picture, Karate Kid III.
Last week, General Hospital's Kirsten Storms (Maxie Jones) was jailed on DUI charges after failing field sobriety and breathalyzer tests.
GH, DAYS star Kirsten Storms arrested for DUI. [Sep 10, 2007]