Sean Kanan (Deacon Sharpe) has confirmed that he will exit his role on The Bold and the Beautiful, ending speculation about whether or not he had re-signed with the CBS soap.

In a statement on his official web site earlier this month, Kanan posted an announcement in which he stated that he and the show had mutually come to terms with a decision to terminate his contract.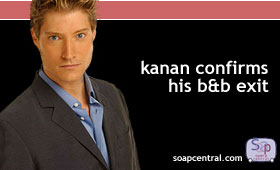 "After 4-and-a-half great years on The Bold and the Beautiful under contract, I have opted to move to recurring status," Kanan said in the statement. "This will allow me to keep pursuing other projects, while at the same time keeping my daytime character alive. I am so happy and thankful for my family at The Bold and the Beautiful."

A spokesperson for the show originally concurred, saying, "He's been put on recurring status."

However, after only a short time on the web site, the posting was removed. It has since been re-posted. Despite Kanan's statement, a spokesperson for The Bold and the Beautiful quickly dismissed talk that Kanan had been dropped to recurring status. In fact, it was strongly implied that Kanan might very well remain on contact.

Kanan's future with The Bold and the Beautiful has been the subject of speculation for some time. In August 2002, there were published reports that the actor had been fired. His name has also been batted around as a possible candidate for the role of Alan-Michael Spaulding on CBS's Guiding Light. However, there is now rampant speculation that Kanan could return to ABC's General Hospital because of the departure of GH star Billy Warlock. [See Warlock leaving General Hospital]

"I taped my last episode Wednesday [January 26th]," Kanan confirms. The details of Deacon's exit, however, are being kept under wraps.

"Brought on as a short term villain in 2000, Deacon Sharpe has become an integral character to The Bold and the Beautiful because of the extraordinary talent of Sean Kanan," said B&B's executive producer/head writer Bradley Bell in a statement. "I greatly admire Sean both personally and professionally, and I am pleased that he has agreed to continue with us on recurring status during this transitional period for the character."

Kanan's final airdate is scheduled for February 22nd.
---
---