As previously reported, long-time soap opera veteran Rick Hearst (Ric Lansing) is rejoining the cast of The Bold and the Beautiful. The actor's first airdate has been set and Hearst is already back at work on the B&B set.
A message from the actor's official fan club, confirms that Hearst returned to work on The Bold and the Beautiful on May 22 -- the day after he taped his final scenes on General Hospital.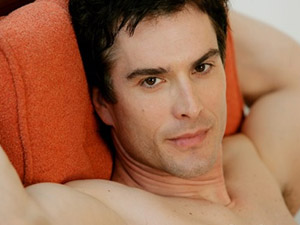 Hearst began his journey in daytime television in 1989 on Days of our Lives. Since then, he's made stops at Guiding Light, The Young and the Restless, and General Hospital. Of course, Hearst previously appeared in a six-month stint on The Bold and the Beautiful in 2002.
During his six-and-a-half years with General Hospital, Hearst won two Daytime Emmys. The actor won a previous Emmy for his work on Guiding Light.
A B&B spokesperson tells Soap Central that Hearst is expected to air on July 17.
Photo Credit: Marina Chavez/SOAPnet

RELATED STORYRick Hearst is back at B&B -- wearing lingerie is optional.

---