As first reported by Soap Central earlier this year, General Hospital has indeed cut several of its contract players. Emmy winner Rick Hearst (Ric Lansing) and Megan Ward (Kate Howard) have both been taken off contract. The good news is that both actors have apparently agreed to continue on with the show on a recurring basis.

Rewinding a bit, in August 2008, rumors surfaced that Hearst's days in Port Charles were coming to a close. The actor brushed aside the claims that he was being let go, saying, "We'll see if it's in the minds of our creators if I'll get a chance to go further. It would be nice. We'll see what happens." About a month later, Heart re-signed with the show for an unspecified period of time. Now just four months -- or about 13 weeks -- into his contract, Hearst has been demoted.

Hearst joined the GH family in November 2002. During his tenure with General Hospital, Hearst has twice been named Outstanding Supporting Actor at the Daytime Emmys. Those wins came in 2004 and 2007. Before tallying his two wins with GH, Hearst had previous picked up an Outstanding Younger Actor Emmy in 1991 for his role as Alan-Michael Spaulding on CBS's Guiding Light.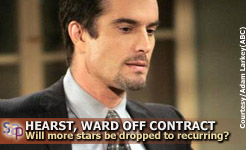 Ward, meanwhile, has been with General Hospital a much shorter time. The actress joined the cast in May 2007. Ward's debut as Kate Howard marked the actress' first foray into daytime television, but Ward had previously guest-starred in numerous primetime shows.

A setside snitch tells Soap Central that show execs felt it would be better to focus their attention on some of the show's other "big name" leading ladies. In trying to cut costs, it was widely believed that cutting Ward would rock the boat far less than losing some of the other talent.

Earlier this year, Soap Central first reported that several major cast cuts were coming. Echoing the report, some of the print publications called the changes an impending "bloodbath."

In addition to Hearst and Ward, it has widely been speculated that Leslie Charleson (Monica Quartermaine) will soon be shown the door. While it's still too soon to say whether she will or will not go, Soap Central has learned that Charleson has a contract clause that bars network execs from firing her until her contract expires. Whereas other stars can be let go at the end of 13-week cycles, a show insider tells Soap Central that Charleson negotiated the clause in her contract to prevent any early dismissals. Though no one will comment on the record, Charleson's contract is believed to run through the end of July.

A spokesperson for General Hospital did not respond to inquiries for a statement.

Photo: Adam Larkey/ABC