Carolyn Hennesy
(
Diane Miller
) vividly remembers being called about a two-day role on General Hospital. Three years later, the actress is still with the show. Call it a soap opera fairytale. It doesn't happen all too often, but when it does, it seems to produce some of daytime's most memorable and best-liked characters.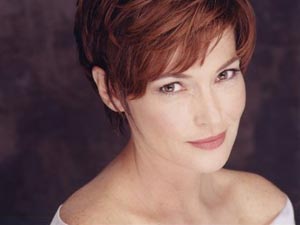 "When [General Hospital casting director] Mark Teschner - who has been a very, very, dear friend for many years and has followed my career -- called me and said, 'I have two days of work for you on General Hospital. Come on down. Come play with us,'" Hennesy recalls in an interview with TVTalk host Shaun Daily during Soap Central's weekly radio show. "I said, 'Sure, two days? Why not? I'm not doing anything.'"
Hennesy was already an established actress at the time. She'd made numerous guest-starring appearances in primetime and she'd also appeared in feature films. Surprisingly, though, she knew very little about daytime television.
"[Mark] said, 'You're going to be Sonny Corinthos' lawyer,' and I said, 'Who's that?' and he almost dropped his teeth. He said [Sonny] is the biggest thing in daytime. And I only say this because it's a good thing I didn't know exactly how big Maurice [Benard] was and how big Maurice as Sonny was, because it saved me going in. I wasn't intimidated. And Maurice sensed that. We just started having a great time right off the bat. Maurice can call the shots on that show in terms of who he likes to work with. The writers saw it. The directors saw it. I think at some point they saw some sort of smirk or some sort of wry look and they thought, 'let's expand [the role of Diane].' And they said, 'Oh, look. There's something very special here... there's more to Diane than just being a lawyer.' Two days has turned into... now I'm in my third year." The reason for Diane's longevity is simple, according to the always witty actress.
"She hasn't slept with Sonny," Hennesy laughed. "She has not made that fatal mistake... and my mother says I'd better not. My mother is one God in my life, but [General Hospital head writer] Bob Guza is the other. If Bob Guza says, 'Go. Diane has to sleep with Sonny.' I will fight it tooth and nail, but if I have to, I will make sure that Sonny does not enjoy it. Because Sonny's lovers ... they got shot in the head... they're chained to walls... they die a horrible death... they all have children by him. Oh, it's just not going to happen come hell or high water."
Though her character is not necessarily a central character on General Hospital, Hennesy is still very much the team player. She speaks highly of her co-stars, their work, and the relationships that her alter ego has on-screen.
Of the recasting of Michael Corinthos, Hennesy is both reflective and tongue-in-cheek.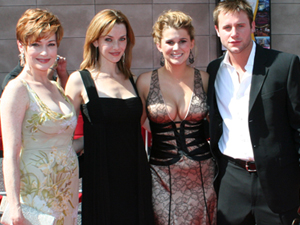 "What do I think of Michael being shot as a very cute, charming, red-headed 13-year-old who I think had braces and waking up without braces and now he's the young hunk?" Hennesy muses. "You don't want to see a 13-year-old killed on the show, so I'm glad that he's waking up. It's kind of a shame for Dylan Cash because he worked so hard on that show and his life was that show. But I'm glad the character is waking up. And it just shows that anyone can come back -- even if they've harvested your organs. You can come back even if you're simply a walking spinal cord. You can come back. [The storyline] gives Laura Wright [Carly Corinthos] and Maurice incredible gravitas to play. There's amazing acting out of Laura Wright. She's just one in a million. How she does it is beyond me."
When asked about the relationship between Diane and Alexis Davis, Hennesy gasps, "It's a great... there's nothing else like it that I know of on a soap. Women who are not 21... women of a certain age, who are not mud wrestling mentally or physically. We're not catfighting. We are supporting each other. We are in each other's corner. We are gal pals. We are the Thelma and Louise and the Lucy and Ethel of daytime dramas. And women everywhere need to see that -- that that can be done. They can have that in their lives. You need to be able to rely on your women friendships. We're not fighting over a guy. Yes, we'll fight over a pair of shoes, but then we'll go out for drinks."
Hennesy also shares a surprising detail of filming General Hospital in high-definition. By now, fans have noticed the visual differences - but there's even more change behind-the-scenes.
"To me, I love it. My red hair pops more," Hennesy says. "I had no idea, though, that there was specific makeup for HD -- and it's put on by a trowel. It's literally put on like spackle. But it covers up a multitude of my things."
Elsewhere in daytime, Hennesy says that she is saddened by the recent cancellation of Guiding Light. The cancellation, though, does not harken a Chicken Little mentality about the end of the soap opera genre for the actress.
"I always go back to Greek drama, Greek tragedy of 2000 or 3000 years ago," the actress explains. "Those were the original soap operas. Man kills his father, sleeps with his mother, plucks out his eye. There's nothing like that on daytime. Soap operas have lasted 2000 to 3000 years, so soap opera in and of itself, in terms of being a genre, is not going anywhere. We will always need these people giving us our morality lessons, being our families, one hour days, five days a week. Something will happen. It will morph into something different. When people start hewing and crying about the death of soap opera, I just don't see it. We need it too badly."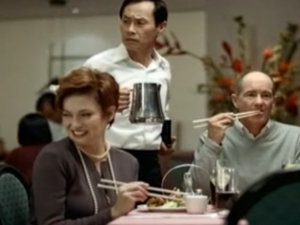 Hennesy's own soap opera future, however, may be coming to an end. The actress recently landed a role in the pilot for a primetime project called Cougar Town. The series was picked up by ABC for its fall lineup, but it remains unclear how involved Hennesy will be in the project, which stars Courtney Cox as a newly single, 40-year-old mother with a 17-year-old son.
Even if the primetime project doesn't pan out, Hennesy still has other irons in the fire. In addition to acting, Hennesy has developed a series of books, of which she says she is the "most proud," targeted to "'tween" girls. The first book in the series, Pandora Gets Jealous, was released in 2007. The actress-turned-writer's third release, Pandora Gets Lazy, was recently released - and a fourth has just been delivered to Hennesy's publisher. Hennesy also hints that there's talk of an animated feature being developed about the books - with the potential for an animated series.
Writer, actress, and, lest we forget, co-star to the infamous GEICO "Cash" character in a television commercial... how is Hennesy able to do so many things so well all at the same time?
"I'd like to say drugs, but I won't say that because it's not true," Hennesy chuckles. "A lot of sleepless nights and a really great husband -- and I've inherited great genes from my mother."
Photo Credit: Carolyn Hennesy; Dan J Kroll/Soap Central; GEICO