Matt Borlenghi (soon-to-be Valentin Cassadine) and his wife, Heather, are the proud parents of twin sons: Pearson Woods and Daltan Roberto were born on January 5, 2010. The couple also has a daughter, four-year-old Garland.
In September, ABC announced that Borlenghi had been tapped to create the role Valentin, a previously unknown son of Mikkos Cassadine. Due to storyline changes, Borlenghi's planned October 2009 debut was pushed back until sometime this spring. Still, the actor says that he's very much looking forward to getting started in Port Charles.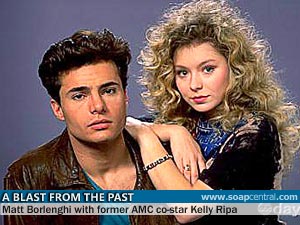 "Playing a spiritually bankrupt man like Valentin, I'll have to draw from the complete opposite end of the emotional spectrum I'm experiencing right now," Borlenghi told TVGuide Canada's Suds Report. "I used to be a bad boy like Valentin in my past, but I forgave myself and evolved as a human being."
Borlenghi is well-known to daytime viewers. Beginning in 1991, Borlenghi -- who then went by Matthew Borlenghi -- appeared for five years as All My Children's Brian Bodine. His work on All My Children garnered him an Outstanding Younger Actor nomination at the Daytime Emmys in 1993. In 2002, Borlenghi appeared as Ziggy Deadmarsh on CBS's The Bold and the Beautiful. Last year, Borlenghi appeared in the short-term role of Mayor Anthony Marino on Days of our Lives.
A revised first General Hospital airdate for Borlenghi is still pending.
Photo Credit: Brandon Gonzales/Soap Central