It been just about two months since he debuted in what was to be a recurring role, but General Hospital apparently doesn't want to take any chances that Scott Reeves (Steven Lars Webber) might find a permanent gig elsewhere. The ABC soap has signed the Emmy-nominated actor to a contract.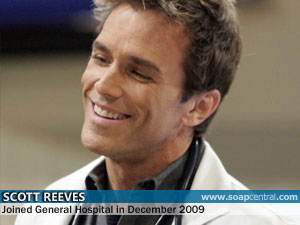 Reeves made his first General Hospital appearance on December 9, when Steven was appointed as the new chief of staff at General Hospital. It had been four years since Steven was last seen on-screen, then played by Shaun Benson.
Reeves is a veteran of two other soaps. He may be best known for the ten years he spent as Ryan McNeil on CBS's The Young and the Restless. During his run on The Young and the Restless, Reeves received two Emmy nominations in the Outstanding Supporting Actor. Before that, Reeves appeared as Jake Hogansen on NBC's Days of our Lives.
With Reeves signing on for more General Hospital, some fans are wondering if his real-life wife, Melissa Reeves (ex-Jennifer Horton, Days of our Lives) might be headed back to daytime. Scott and Melissa currently reside in Nashville, and Scott had been commuting to Los Angeles when he's been needed on General Hospital. There has been no indication that Melissa might also be headed to General Hospital -- but that hasn't stopped fans from offering possible scenarios.
Photo Credit: Rick Rowell/ABC
---