Veteran actress Adrienne Barbeau will join the cast of General Hospital next month in a recurring role that is tied to the return of Emmy winner Vanessa Marcil (Brenda Barrett).
You may recall that a casting call was put out in late May looking for an actress to tackle the role of Suzanne, a "tough, funny, no-nonsense [woman] with a heart of gold." Well Barbeau landed the role -- and the character's name has not been changed from the original casting call.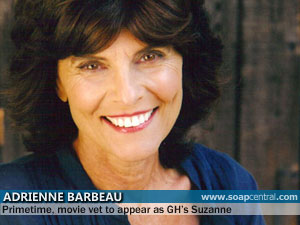 It isn't clear yet just how Suzanne and Brenda know each other, but TVGuide reports that Suzanne will be "closely involved" with Brenda and that both women will make their first appearances in Rome, not Port Charles.
"Despite her hard edge, Suzanne has a lot of love for others, including Brenda -- she's her confidante, so to speak," GH head writer, Bob Guza, reveals. "As we get to know Suzanne better, she'll have a surprising feminine side."
Barbeau has appeared in more than a dozen feature films and even more television projects. She is, however, perhaps best-known for her role as Carol on Maude. Earlier this year, she appeared as herself in an episode of the CBS sitcom The New Adventures of Old Christine.
For now, Barbeau's stint is slated to last only a few weeks. However, that could change depending upon fan reaction and the direction of future story.
Barbeau debuts on General Hospital on August 12, one day after Marcil makes her previously announced return.
--->
---