Those heated discusses between Vanessa Marcil (Brenda Barrett) and ABC have panned out. The Emmy-winning actress will return to General Hospital this summer -- and it's said that Brenda will have a huge secret.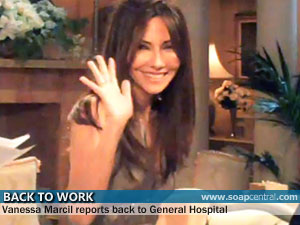 "Fans can now rejoice, Vanessa is returning to General Hospital. True to form, Brenda arrives in Port Charles with a secret that will impact Sonny, Jax and Jason," Brian Frons, president, daytime, Disney/ABC Television Group, announced today. "General Hospital has always been dedicated to the strong history of our characters. Fans and viewers alike will be thrilled with her storyline and will agree that her return was worth waiting for."
"I feel so lucky to continue to be allowed to visit General Hospital and honor where I came from," Marcil said. "I am humbled by these great people and a character that I truly love."
Brenda's imminent return to Port Charles has been rumored for years. After a series of dashed hopes -- that typically involved Marcil landing job opportunities in primetime -- some fans had given up hope that Marcil would ever return to her daytime roots.
In 2007, Marcil was reportedly days away from inking a GH contract when her primetime series, Las Vegas, was renewed despite its low ratings. The following year, Marcil was tapped to host a reality series, which again put the kibosh on a return trip to GH.
It came as a déjà vu moment when, in April, Bob Guza, Jr., General Hospital's head writer, confirmed that the show had "been in contact with Vanessa, and there [was] interest on both parts in seeing Brenda return."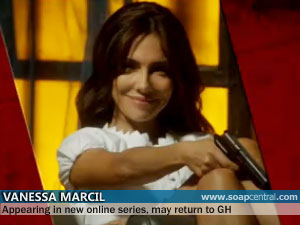 Guza's remark sounded a lot like one he'd made in January 2009, indicating that the show and Marcil were "trying to make it work again."
Now that everything has worked out, Marcil will soon find herself immersed in some heated story. According to a General Hospital spokesperson, Brenda doesn't know that her secret has the potential to turn Port Charles on its ear.
"Brenda has no idea the havoc this little indiscretion will wreak or that she'll send the lives of loved ones hurling into chaos," the show rep tells Soap Central.
Marcil originated the role of Brenda in September 1992. In 1998, she left the soap to pursue other opportunities. She quickly landed a role on Beverly Hills, 90210. In 2002, Marcil returned to General Hospital for a short-term engagement. The result of that five-month return was Marcil's first-ever Daytime Emmy award. Marcil last appeared on General Hospital on February 19, 2003.
"We are so thrilled to welcome Vanessa Marcil home to General Hospital," added GH's executive producer, Jill Farren Phelps. "Vanessa is a wonderful, talented actress and her portrayal of Brenda makes her a force of nature in Port Charles."
Marcil makes her first appearance on August 11.
Photo: crackle.com