Rebecca Herbst (Elizabeth Webber) and husband Michael Saucedo (ex-Juan Santiago) are the proud parents of another baby. The couple welcomed a new bundle of joy on August 9.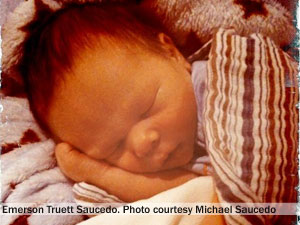 The baby, a bouncing baby boy, was named Emerson Truett Saucedo, and weighed in at 8 pounds, 4 ounces. Herbst and Saucedo didn't immediately have a name picked out, according to Saucedo.
"After much deliberation baby's name is Emerson Truett Saucedo. We weren't going 'E' [for the first name] but at the last hour it just clicked," Saucedo shared. "Becky is doing great."
In January, knowing that soap fans have good reasons to question paternity tests, DNA results, and pretty much anything else done in a hospital, Saucedo actually tweeted a picture of Herbst's pregnancy test.
Herbst and Saucedo were married in 2001, after having met through their work on General Hospital. The couple has two other children -- both with E names -- eight-year-old Ethan, and Ella, who is five.
--->
---

RELATED STORY
So-to-be GH star welcomes twin boys
---