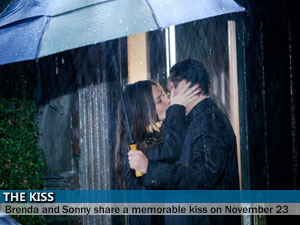 There have been many memorable kisses in television history, but there's one kiss that daytime viewers have been anticipating for nearly a decade. Next week, the wait is over as General Hospital's Sonny and Brenda share an anxiously awaited kiss.
ABC is comparing the kiss to some of television's other landmark smooches -- Ross and Rachel on Friends, Maddy and David on Moonlighting, Sam and Diane on Cheers, and Derek and Meredith on Grey's Anatomy.
Fans have been clamoring for Sonny and Brenda to reunite ever since the news of Emmy winner Vanessa Marcil Giovinazzo's return to GH was announced back in June.
Of course, nothing in the world of daytime is ever without heartache. Will the kiss signal a new chapter for Sonny and Brenda or will any hope of a reunion be dashed as Brenda and Dante's secret continues to unravel?
See exclusive video of the first kiss on our Facebook page: http://www.facebook.com/soapcentral
Photo Credits: Howard Wise/JPI
---