Guiding Light has quickly opted to make some changes to its younger set. Kit Paquin has been bumped from the role of Marina Cooper after only one month on the air.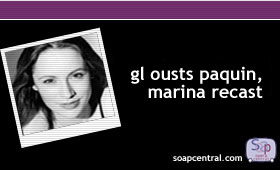 Paquin assumed the role of Marina from Aubrey Dollar in early March. As previously reported by Soap Central, Dollar opted not to renew her contract with Guiding Light in order to allow herself to pursue other ventures. Paquin, a theater actress and newcomer to television, reportedly beat out several soap vets to win the role.
A spokesperson for Guiding Light says that the recast was needed in order to "take the character in a different direction." While some Guiding Light fans have been critical of Paquin's work, a sizeable majority - 57% -- wanted Guiding Light to recast Marina after Dollar's exit, saying that the role was too important to the show.
Soap newcomer Mandy Bruno will assume the role of Marina beginning next month.
Paquin's final airdate is April 28th. Bruno has her first on-screen appearance on May 12th.