There is updated information available for this story. Click here to read it.

It was just a little over a year ago, when Tom Pelphrey (ex-Jonathan Randall) squashed reports that he was planning to exit Guiding Light as he spoke to reporters backstage at the Daytime Emmys. The actor had just won the Outstanding Younger Actor trophy and was dogged by reports that he'd be leaving the show when his contract expired.
"I'm sticking around," Pelphrey confirmed, though the actor declined to give specifics. "Where's the fun in that? I'm not supposed to talk about it. I truly love the people I work with, so that's why I want to stay."
Of course the actor did eventually leave the cast of the long-running CBS soap, albeit it nearly a year after the backstage announcement. Pelphrey's final Guiding Light appearance aired on February 1st, when his character staged his own death in a car accident. That plot twist, of course, left the door open for Pelphrey to return at a later time- or to recast the role if necessary.
No one is officially commenting on reports that Pelphrey will return to the show. Insiders report that the actor and show execs are in talks about a possible return, but no deal has been reached as of yet. However, backstage at this year's Emmys it was executive producer Ellen Wheeler's chance to tweak the media.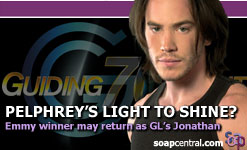 "You never know who will pop up or return on a soap," she said with a wink when asked about the possibility that Jonathan would find his way back to Springfield.
Pelphrey joined the cast of Guiding Light in September 2004. He received a third consecutive Daytime Emmy nomination this year for his work on Guiding Light.