Tom Pelphrey (Jonathan Randall) will not be exiting Guiding Light when his contract expires later this year. While the news is definitely good for both the show and for Pelphrey's fans, there is a caveat: Pelphrey could still be leaving the show.
If it seems like a mixed message is being sent, you are probably at least partially corrected. Pelphrey confirms that his stay in Springfield has been extended, but show executives have apparently asked that he not offer any details about the deal reached by the two sides.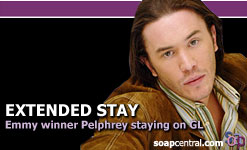 "I'm sticking around," Pelphrey confirmed backstage at this year's Daytime Emmys, though the actor declined to give specifics. "Where's the fun in that? I'm not supposed to talk about it. I truly love the people I work with, so that's why I want to stay."
As previously reported by Soap Central, Pelphrey has landed a role in the yet-to-be-filmed motion picture, Spring Broke. The movie, slated for a 2008 release, will focus on three college students who travel to Cancun for Spring Break only to have a terrible chain of events ruin their vacation. Also slated to appear in the movie are Drew Seltzer and Reginald Huc.
Pelphrey's win at this year's Daytime Emmys in the Outstanding Younger Actor category apparently did not come in to play during the negotiations; Pelphrey and the show had reached their agreement prior to Emmy night.
As expected, with little detail about the terms of Pelphrey's new contract, Internet boards are abuzz with speculation. Some fans think that Pelphrey extended his stay long enough for the show to wrap up his character's storyline - or until a suitable replacement is found. Other theories suggest that Pelphrey reworked his contract to allow for time off to pursue other projects.
Pelphrey joined the cast of Guiding Light in September 2004.
A spokesperson for Guiding Light did not return requests for a statement.
Photo: Steve Vaccariello/PGP