Since 1983, Kim Zimmer (Reva Shayne) has brought to life the many facets of Guiding Light's Reva Shayne. She's frolicked in a fountain, proclaimed herself the "Slut of Springfield," and she's even been cloned. In her real life, she's demanded more screen time, questioned the show's writing, and always spoken her mind. But how is Kim Zimmer really doing?
"Other than being on the backburner, I'm fine. You know, they wheel me out for spark. Then they wheel me back behind the curtain," Zimmer cracks.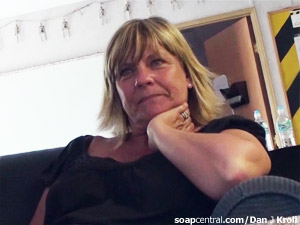 The four-time Emmy winner is currently involved in a storyline that was seemingly created for another Emmy award. Her perimenopausal character is battling leukemia and carrying a baby. It's the type of story that doesn't come around very often. Yet Zimmer is disappointed that the plot doesn't resonate with fans.
"I have this whole baby thing going on that they don't really care about," Zimmer sighs. "It's frustrating and odd and heartbreaking all at the same time."
For many years, Zimmer's fans have heard rumors that she is on her way out. In 2005, Internet rumors claimed that Zimmer had bolted from the show over a disputed pay cut. A year ago, Zimmer was vocal about her lack of on-screen time. Now, as it again comes time to negotiate her contract with Guiding Light, Zimmer is puzzled by how the show has chosen to utilize her character.
Zimmer realizes that the financial dynamics of daytime have changed. It isn't that she doesn't want to work. In fact, Zimmer has expressed her desire to continue working at Guiding Light. During the height of her character's missing-in-action status last year, Zimmer was being paid for episodes in which she didn't air. How is that possible? Most soap contracts have "guarantees," or a promise that a performer will air in a certain number of episodes each week. Performers are then paid whether they appear in that number of episodes or not. Not using an actor means that a show is paying them to, essentially, stay home.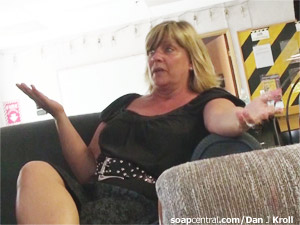 "It's totally bizarre," Zimmer shrugs. "I understand the financing behind it, but I just... I want the Tony Geary [Luke Spencer, General Hospital] contract. If you can't afford to work me four days a week, then don't work me for three months and then give me a story when you can work me -- an arc story -- and then have me disappear again. Tony works for seven months out of the year then goes to [vacation in] Amsterdam. When he comes back, [the General Hospital writers] have a story for him and the fans are ready to see him again."
What many fans are ready to see, according to fan feedback and message board postings, is a reunion of Josh and Reva. Always a haven for rumors and word-twisting, Zimmer responds to claims that she has ordered Guiding Light's writing team to never again pair Reva and Josh romantically.
"What I think that probably got started from was [the writers] wanted to put [Josh and Reva] together again right after he was with Cassie. I was like, he's gotta beg. He's gotta crawl on his hands and knee and beg for me to come back. Are you kidding me? It wasn't that I said never," Zimmer clarifies.
"It was that we both needed to... I lied. I covered up about my cancer. It was all bad," Zimmer adds with a nod to her alter ego's perspective. "I would love it if, God forbid, the show ever goes off the air that we reconnect."
Where exactly things should go for Josh and Reva, Zimmer isn't sure. She does, however, like the idea put in play by primetime's Private Practice, where two former lovers, played by Taye Diggs (ex-Sugar Hill) and Audra MacDonald, are now getting along as "just friends."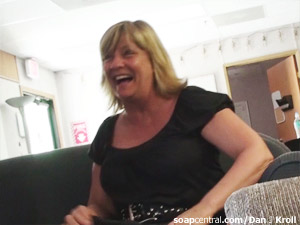 "It's fun to watch them be jealous of each other's flirtations and that would be fun for Josh and Reva," Zimmer offers.
In her 25 years with Guiding Light, Zimmer's Reva has done it all -- or at least it seems that way. Is there anything else that she wants to do?
"She wants to have eight babies!" co-star Jordan Clarke (Billy Lewis) deadpans from the other side of the room.
"Oh no, I don't!" Zimmer retorts. "I would like to see Reva work again. I would like to see her go to Lewis Construction -- or whatever it's called now -- and work with the Lewis men again and just have that great camaraderie. There are a lot of little things... I really have done it all, but I'd like to add a little more dimension. I'm just missing dimension right now."
Photos: Dan J Kroll/Soap Central