Days of our Lives executive producer, Ken Corday, has rubbed some Guiding Light fans the wrong way with some recent comments about the cancellation of the long-running CBS soap. Corday wasn't just commenting on "someone else's" soap; he has a personal relationship with Guiding Light. In the 1950s, Corday's father, Ted, was a producer at Guiding Light.
In an interview with Soap Opera Digest, Corday lamented the cancellation of the 72-year soap opera, calling CBS's decision to end the series a "damn shame."
"Not to name names, but in desperate times, desperate measures are sometimes the worst things to resort to and it's clear now in hindsight and it was clear to the viewers as it was going on what [GL became] was not soap opera," Corday remarked. "It smacked of ESPN or the evening news and done without any homage to the creator of the show."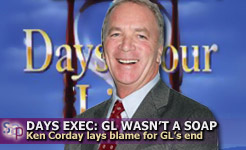 The comments seemed to be directed at Guiding Light's decision last year to completely redo its production model. The changes took the show's stars out of the studio and into the real world of Peapack, NJ. In other changes, the show rebuilt all of its sets to feature four-walled scenes. The initial changes turned off some viewers, and the show's ratings plummeted.
While Guiding Light's production company, Telenext Media, continues to work to find a new home for the show, Guiding Light's CBS farewell is slated for September 18.