One of the side-effects of a new writing team taking over on a soap is the occasional need to "clean house." Since a new head writer will most likely want to develop their own new characters for a show, any characters created by the previous writing team are often discarded.
That phenonenon would apparently explain the sudden release of three Guiding Light stars: Ryan Brown (Billy), Mark Dobies (Noah) and Paula Garces (Pilar) have all been let go.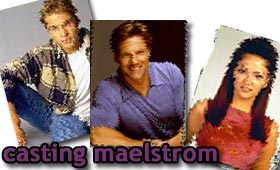 Garces and Brown's departures may not come as a surprise to some viewers. In fact, since these two performers have been so scarcely seen in recent months, some viewers may have thought that they were already gone. According to a show source, Garces and Brown will remain off-screen and their characters will not have farewell scenes.
Though still unconfirmed by CBS, Soap Central has learned that Mark Dobies will exit Guiding Light in early August. Soap Central first reported
exclusively on Dobies' firing back in June. Since that time, several other media outlets have made reports confirming the Soap Central story.
Rumors that Dobies' character would be killed off -- possibly during the return of Carmen Santos (played by Saundra Santiago) -- were unfounded. Dobies' final airdate is August 17th.
It is unclear at this time if the decision to dump these three characters came from new head writer Lloyd "Lucky" Gold or elsewhere in the Procter & Gamble organization. Soap Central contacted a Guiding Light spokesperson for comment on this article, but as of press time no comment had been issued.