Soap Central is following up on reports that Nick Scotti (ex-Tony Viscardi, The Young and the Restless) will be joining the cast of Guiding Light.
According to reports making the rounds on the Internet, Scotti would take on the role of Alan-Michael Spaulding.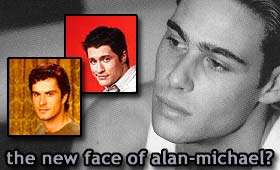 The 35-yard old Scotti played Tony Viscardi on Y&R from 1996 to 1998. After leaving the soap world, he appeared in three feature films: 1999's Detroit Rock City, Kiss Me Guido in 1997, and the 1996 flick Bullet.
If Scotti is cast in the role, he'd be the fourth in a long line of soap vets who have tackled the role.
Carl T. Evans was the first performer to play son of Alan Spaulding and Hope Bauer. Evans held the part for a two-year period ending in 1989. Evans is now a part of As The World Turns, where he plays Nick Scudder.
For six years, Rick Hearst played Alan-Michael. Hearst's most recent work has been on The Young and the Restless, where he plays Matt Carter. Hearst's character on Y&R is dead, but his "spirit" has come back to haunt a resident of Genoa City.
The most recent Alan-Michael, Michael Dietz, left Guiding Light to join the cast of the then-new ABC soap, Port Charles. Dietz played Joe Scanlon until 1999 when the role was recast.
Soap Central contacted Guiding Light for comment on this story. "We don't comment on internet rumors," stated a spokesperson.
---