According to some new reports, Guiding Light is contemplating bringing Selena Davis back to the show. Before fans jump for joy, however, there is a word of warning.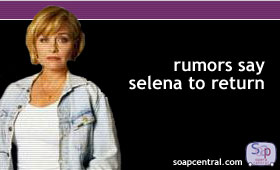 Patti D'Arbanville, who created the role of Selena in April 1998, will not be returning to the show. D'Arbanville vacated the role on November 2nd of last year, a dismissal that was reported to be the result of the show's then-new writing regime led by Claire Labine.
"I thought that I would take this opportunity to be the first to let all of you know that I will be leaving the show in [November]," said D'Arbanville on her official web site last year. "Many factors have entered into this decision, and although I am saddened, I only want what is best for this show.
There is no immediate word on possible recasts for the role nor is there word from D'Arbanville's camp. Therefore, it is currently unclear if D'Arbanville passed on a return to GL - or if she was even asked to return.
A GL spokesperson declined to comment on the reports that Selena would be returning to Springfield.