It was a casting call that had both fans of Guiding Light and As The World Turns in a buzz. Could Ben Warren be returning to Springfield? Well, Ben is making a return to town - but it's not the Ben that everyone had thought.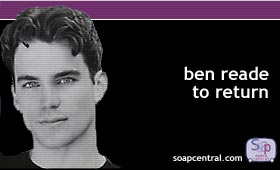 Hunt Block played Ben Warren from November 1997 through November 16, 1999, when his character was fatally wounded from a gunshot. Shortly thereafter, Block joined the cast of ATWT, where he plays Craig Montgomery, a role for which he was honored with an Emmy nomination this past year. When word came that GL was writing "Ben" back into the cast, fans wondered if Block would be pulling double-duty or if the role of Ben would be recast. If Block were returning to GL, his commute back and forth from the two soaps wouldn't have been terribly difficult; ATWT and GL share studios in Brooklyn.
As it turns out, the Ben returning to GL is Ben Reade, the son of Fletcher Reade and Maeve Stoddard. Landing the role of Ben Reade is Matthew Bomer, a relative newcomer to the world of soaps. Bomer previously had a several day stint on All My Children as Ian Kipling, the fiancÚ of Sarah Livingston, a young sexually confused woman.
Bomer's first airdate has not been announced.