The Internet is abuzz with rumors regarding Guiding Light casting news. As with all Internet rumors, some pan out... and some, well, some appear to just be the fodder of active imaginations.
First, a rumor that is true. Soap Central has confirmed that Guiding Light is looking to bring back the character of Marina Cooper. Marina is the daughter of Frank Cooper and Eleni Andros Cooper. Marina, who was born on-screen in 1993, will be "aged" so that she will now be a teenager. Aubrey Dollar will tackle the role of the wild child. Dollar has appeared on Dawson's Creek and in the film The Road to Wellville.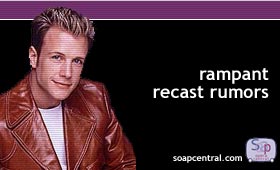 No word on when Marina will make her first appearance.
Now on to other rumors, it's been said on several message boards that Todd Rotondi (ex-Bryant Montgomery, As The World Turns) will be joining the cast of Guiding Light. Rotondi exited ATWT last month when his character was killed in a car accident. According to the chatter, Rotondi would play a recast version of Billy Lewis III. Billy exited the show earlier this spring, one of the first characters to fall victim to then-new head writer Lloyd "Lucky" Gold.
Although the GL spokesperson reminds us that they do not comment on Internet rumors, Soap Central was told that there are no plans to bring Rotondi aboard.
---