How do you feel about GL dismissing Lindsey McKeon as Marah?


I'm upset. McKeon is a fine actress and has done well.
54%
I think GL needs to consider recasting the role of Marah.
27%
It doesn't really matter to me if Marah comes or goes.
7%
I like McKeon's work, but I've grown tired of Marah.
7%
Due to the storyline, I think GL had to write out Marah.
3%
Other
1%
Poll Posted: March 5, 2004
Despite conflicting reports late last year regarding her future, it is now confirmed that actress
Lindsey McKeon
(
Marah Lewis
) will leave Guiding Light.
In September of last year
, McKeon issued a statement announcing that she had decided to leave Guiding Light upon the conclusion of her contract. At that time McKeon's still had about six months left in her contract.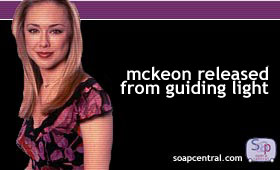 "I hate to say it because of the fans, but that's where I'm going," McKeon reveals. "I want to do film. I want to do other things."
McKeon, however, quickly backtracked from the statement. In an interview a few weeks later, McKeon stated that it was too soon to say how she would handle her future with Guiding Light. Insiders revealed that McKeon's request to be ler out of her contract early were denied by show executives.
In an interview with TVGuide earlier this month, McKeon states that she was "sort of let go early" from her contract. A setside source tells Soap Opera Central that McKeon's exit was dictated by storyline.
McKeon joined the cast of Guiding Light in November 2001. She was honored with a Daytime Emmy nomination for Outstanding Younger Actress is both 2002 and 2003.
A final airdate for McKeon has not yet been announced.