Which of these exiting GL stars will you most miss?

Paul Anthony Stewart (Danny Santos)
32%
I will miss Stewart and St. Alban equally.
24%
I think the time if right for both performers to exit.
18%
Nancy St. Alban (Michelle Bauer)
16%
I'd rather the roles be recast than simply written out.
10%
I don't have an opinion about the exit of these stars.
0%
Other
0%
Poll Posted: August 29, 2005
The rumors circulating for several months are true: The popular pairing of
Nancy St. Alban
(
Michelle Bauer
) and
Paul Anthony Stewart
(
Danny Santos
) have been released from Guiding Light. Though initial denied as being part of the so-called "hit list" put out by Guiding Light earlier this year, a show spokesperson has confirmed that the pair will exit later this year.
Rumors of St. Alban and Stewart's impending exits from Guiding Light first started making the rounds
earlier this year
when, for budgetary reasons, many of the show's performers were either dumped or asked to go to recurring status. Both St. Alban and Stewart were rumored to be on the list - but St. Alban dismissed the rumors and assured fans that she had not been dropped to recurring status.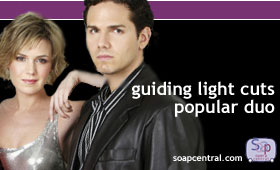 Last month, however, a messaged posted on St. Alban's official web site confirmed that she and her co-star had, in fact, been dismissed. The announcement was quickly pulled from the site, but when asked for comment a show spokesperson confirmed that the posting was accurate.
"Their departure is storyline-dictated," a show rep tells Soap Central. "They will be with us through the fall, and they have some terrific stories coming up."
St. Alban joined the cast of Guiding Light in October 2000 as the fifth actress to portray Michelle Bauer. With her upcoming departure, Guiding Light will no longer have any members of the Bauer family as contract players.
Michael O'Leary
(
Rick Bauer
) remains with the show, but the actor serves in a recurring capacity.
Stewart, meanwhile, will usher out the last of the Santoses from Springfield. Stewart joined Guiding Light in November 1998. Over the years, viewers were introduced to other members of his family. Stewart's on-screen cousin,
Stephen Martines
(
Tony Santos
) exited the show
in April
.
Stewart and St. Alban will both make their final on-screen appearances on November 22nd.