It wasn't exactly and exhaustive search, but Guiding Light has found an actress to assume the role of Lizzie Spaulding. As first reported by Soap Central last month, the CBS soap was left in a bit of a lurch when Crystal Hunt (Lizzie Spaulding) announced that she would be exiting the show.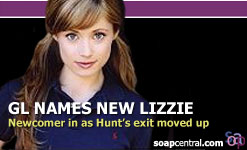 "I would like to let you know that I have decided not to renew my contract at Guiding Light," Hunt said in her announcement. "[In 2004,] after working at GL for a year on recurring status, I signed a two-year contract that will be ending very soon. This has been a difficult decision for me, but I feel that it is time for me to test the waters and see what is out there."

Guiding Light immediately issued a statement wishing the actress well, and, in the process, announced the show's plans to recast the role of Lizzie. At the time, it was believed that Hunt would continue to air through March 2006 while the show looked for her replacement. Now that a new actress has been cast in the role, Hunt's final airdate has been moved up substantially.

Marcy Rylan, a newcomer to daytime television, will assume the role of Lizzie beginning next month. The actress joins the show with limited experience in television. The actress made her television debut last year in an episode of the Nickelodeon series Drake & Josh.

Hunt, who joined the cast of Guiding Light in February 2003, last airs on January 31st. Rylan makes her Guiding Light debut a week later on February 8th.