Would GL be negatively impacted by a Kim Zimmer departure?

Kim Zimmer IS Guiding Light. If she left, the show would collapse.
53%
I'm not a Reva fan, so I wouldn't mind seeing Zimmer exit the show.
29%
I think GL would take a hit, but the show would manage to survive.
13%
Zimmer isn't going anywhere. This is all just a publicity stunt.
2%
Hmm... It might be interesting to see GL recast the role of Reva.
1%
Other
1%
Selfishly, I'd like to see Zimmer leave so she could join another soap.
1%
I have no opinion about Kim Zimmer's possible exit from Guiding Light.
0%
Poll Posted: May 15, 2006
Amid
last year's unprecedented steps
by Procter & Gamble Productions to trim Guiding Light's budgets, stars were asked to take across-the-board pay cuts. One star, however, refused to accept a pay cut and that refusal set off a wave of walkout talks and other rumors.
Now in 2006, Kim Zimmer (Reva Shayne) is back in the same boat.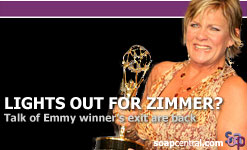 Some fans may be completely unaware of the behind-the-scenes commotion. As reported last May, Guiding Light executives approached each of the show's stars and asked, or rather demanded, that they take a pay cut to help defray the show's operational expenses. When told that she needed to have her salary slashed, Zimmer cried foul, saying that she was in the middle of a contract and could not have her salary adjusted until after that contract expired.
"I will be more than happy to renegotiate a contract at the end of my existing contract," Zimmer said in a statement.
The expiration date on Zimmer's current contract is rapidly approaching - and the time for negotiation is here. According to sources familiar with the talks, P&G is taking a hard line and insisting that Zimmer's current salary is not workable in the current climate of slumping ratings and tightened budgets. Zimmer, however, is said to have balked at P&G's first offer in the contract talks.
Zimmer has some new bargaining power in her corner. The actress picked up her fourth Daytime Emmy win last month.
On the Red Carpet at this year's Daytime Emmys, Zimmer, amid discussion about the pros and cons of Internet message boards, dodged questions about her future with the show.
"[Guiding Light] has the most talented cast in daytime television and I am proud to be a part of the show," Zimmer told Soap Central. "I hope to continue being a part of that family for many years to come."
Neither Zimmer nor a spokesperson for Guiding Light responded to inquiries by Soap Central for comment for this article by post time.
Zimmer joined Guiding Light in November 1983. She left the show in July 1990, but returned in April 1995. She has been with the show ever since. Her current contract expires in July 2006.