As first reported last month by Soap Central, Guiding Light has quietly been planning the return of Shayne Lewis. At the time, a show spokesperson told Soap Central that the return wasn't a done deal, but that the show was actively seeking actors who might be able to work their magic in the role. Now, the longest-running dramatic series in television history has announced that it has snagged an Emmy-nominated former All My Children performer for the role.
"We're very excited to report that Jeff Branson will be joining the cast," a Guiding Light spokesperson tells Soap Central.
This is not the first time that Branson has appeared in Springfield. In 2004, Branson appeared in flashback scenes as a young Alan Spaulding.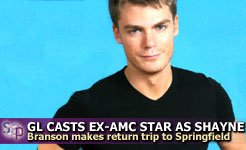 Later that year, Branson joined the cast of All My Children as Ryan Lavery's troubled younger brother, Jonathan Lavery. Jonathan was presumed dead in an explosion after he attempted to kill several of the show's characters. In August 2005, Jonathan was revealed to be very much alive. In further revelations, it was learned that Jonathan wasn't really a bad seed; he was merely suffering from a brain tumor. Surgery removed the tumor and Jonathan returned to being one of the good guys. His storyline, however, did not return and Branson was let go from the show with little fanfare. He last aired on AMC in December 2007.
A newcomer to television acting when he joined All My Children, Branson quickly earned fans with his good looks and acting prowess. In 2005, Branson was nominated for an Outstanding Supporting Actor trophy at the Daytime Emmys.
Marty West was the last actor to appear as Shayne, exiting GL in 2004. It's been over four years since Shayne left Springfield bound for a Peace Corps job in Bosnia. Recent show storyline has revealed that Shayne's last known location was Afghanistan.
The casting of Branson is somewhat of a coup for Guiding Light. It had been rumored for several weeks that one CBS soap was looking to poach a high-profile former ABC star. The two networks have been engaged recently in a series of high-profile signings of each other's stars.
Branson will debut on Guiding Light on December 1st.