OLTL goes dark as new head writer takes over
by
Dan J Kroll

Posted Sunday, October 31, 2004 3:01:34 PM

One Life to Live's new head writer Dena Higley appears to be wasting no time with fixing what she perceives to be broken with the show. And in doing so, there are some casting changes on the horizon.

Rumors started to swirl when the show went dark the week of October 11th. In going "dark," the show was effective shut down -- no new episodes were taped, none of the actors reported to work. Internet rumors claimed that the show was being cancelled.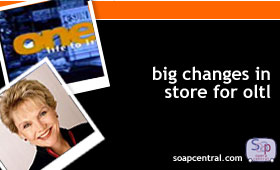 In reality, something far less nefarious was taking place. To accommodate the change in writing staff, outgoing head writer Michael Malone had prepared extra material to ease the transition period. According to a show spokesperson, the show had to take the week off or they would have run out of material to shoot. "We were going to take a week off later in the year anyway," the spokesperson revealed. "So it made sense to do it now because of the amount of story we had written for shooting."

As for the storyline changes being developed by Higley, the main focus would appear to be ridding Llanview of the Santi family. The mob storyline was not well received by One Life to Live viewers and had already been cut short from its originally planned run.

A show spokesperson has confirmed that both Lisa LoCicero (Sonia Santi) and Javier Morga (Tico Santi) will exit the show in the near future. Both exits are storyline-dictated. Final airdates, however, were not released.

Higley's first day at work was October 18 and her material will start to air sometime in the November Sweeps period.

RELATED STORY
OLTL names former DAYS scribe Dena Higley as new head writer.
---