Rumors continue to circulate regarding Michael Easton's (John McBain) status with One Life to Live. While the actor is officially keeping a low profile, a not-so-amicable parting of ways with the webmaster of his official web site has many fans fearing the worst.
Easton and the webmaster of his now-former official web site had a falling out earlier this year - a fallout that unfortunately became far too public. In the squabble, the webmaster expressed frustration over not knowing the details of, among other things, Easton's contract status. For his part, Easton explained that his plate was full with work and other projects and that he hadn't had the time to keep up with the webmaster. The webmaster then posted on the web site a series of personal emails that Easton had written.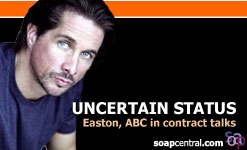 One of the emails posted from Easton explained that the actor did "not feel comfortable" committing to an appearance at this year's One Life to Live Fan Club luncheon because he was not sure if he would be with the show at that time. The luncheon will be held in August.
As expected, when the news of Easton's contract uncertainty surfaced, Internet rumors spread like wild fire. According to some posters, Easton would head to General Hospital to play opposite his former Port Charles love interest, Kelly Monaco (Samantha McCall). Other rumors had Easton returning to Days of our Lives.
Easton and ABC remain in contract talks. As is network policy, ABC would not offer comment on the talks. Easton has also remained silent while the talks continue. According to a setside source, One Life to Live has a major storyline in place for Easton if he does, in fact, re-sign.
For his part, Easton has established a new official web site and offered some comment on his contract situation.
"Unfortunately, I am unable to comment on the situation at this time and truth be told no decisions have been made," Easton stated. "I will say only that ABC has been nothing less than wonderful to me from day one, as has my entire experience been on One Life To Live. Anybody saying anything to the contrary is simply misinformed."
Lastly, I just wanted to say no matter what happens come August, thank you for giving me a home for the past three years. None of this would have been possible without you -- the best fans in the world. I am truly blessed.
Easton joined the cast of One Life to Live in October 2003.