Just two days after it was announced that newcomer Josh Kelly had been cast as One Life to Live's new Joey Buchanan comes a surprising change of course for the ABC soap. Kelly is out -- but he's not leaving the show. Meanwhile, OLTL has already announced that former As the World Turns player Tom Degnan will now be tackling the role of Viki and Clint's son.
According to One Life to Live's executive producer, Frank Valentini, the Joey switcheroo was due, in part, to an abundance of talented performers that tried out for the role.
"After auditioning a talented group of guys for the role of Joey, we are excited to announce that not one but two of them will be joining the cast of One Life to Live in contract roles," Valentini said in a statement.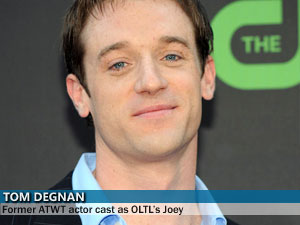 Degnan is known to daytime viewers for the several months he spent as As the World Turns' Adam Munson. The actor also has a handful of primetime guest appearances under his belt.
So where does that leave the previously cast Kelly?
"[W]e have decided that Josh Kelly is a great fit for the other contract role that we have written," Valentini added. "We look forward to both actors joining the show."
Valentini did not elaborate on what role Kelly will now be playing. The role, however, is described as "a mysterious, charming and handsome guy set to shake up the Llanview scene."
This is not the first time that One Life to Live has done a quick unrecast. In 2008, the show cast Emmy-nominated Scott Clifton as Schuyler Joplin, a role that had already been given to Brett Claywell. Claywell, meanwhile, went on to play Kyle Lewis, one-half of the wildly popular "Kish" coupling.
Neither Degnan nor Kelly has yet reported to the studio. Joey's first airdate hasn't been altered, so look for Degnan to make his debut on November 24. A first airdate has not yet been announced for Kelly in his new role.
---