Joseph "Joey" Francis Riley Buchanan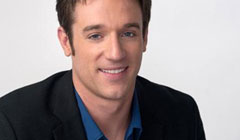 Ryan Morris
1982 to 1983
John Paul Learn
1983 to 1990
Chris McKenna
September 1990 to 1993
Jeremy Fonicello
1998; temporary replacement
Joseph Francis Riley Jr. (birth name)
Joe (name Dorian uses exclusively)
Born onscreen January 8, 1980
In 1992, Joey was said to be 16 years old
Photographer
Executive at Buchanan Enterprises - London
Former curate for St. James Rectory
Former photographer for the Banner
London, England
Formerly Llanview, Pennsylvania (2010 to present)
Formerly Llanview, Pennsylvania (2003)
Formerly London, England (2001-2003)
Formerly Llanview, Pennsylvania (1997-2001)
Formerly Paris, France (1997)
Formerly Llanview, Pennsylvania (1994-1997)
Formerly Italy (1993-1994)
Raised in Llanview, Pennsylvania
Single/Divorced from Aubrey Wentworth [Engaged: Dec 7, 2010; married: Feb 14, 2011; divorced: Jul 21, 2011]
Kelly Cramer [Married: April 14, 2000; Divorced: January 2001]
Jen Rappaport [Married: August 21, 2003; Divorced: December 2003]
Aubrey Wentworth [Engaged: Dec 7, 2010; married: Feb 14, 2011; divorced: Jul 21, 2011]
Joe Riley (biological father; deceased)
Victoria Lord Banks (mother)
Clint Buchanan (father; via adoption)
Kevin Buchanan Sr. (brother)
Megan Riley (paternal half-sister; deceased)
Cordero Roberts (paternal brother, via adoption)
Megan Gordon (maternal half-sister; deceased)
Jessica Buchanan (maternal half-sister)
Natalie Buchanan (maternal half-sister)
Rex Balsom (paternal half-brother, via adoption)
Victor Lord (maternal grandfather; deceased)
Eugenia Randolph Lord (maternal grandmother; deceased)
Asa Buchanan (grandfather, via adoption; deceased)
Olympia Buchanan (grandmother, via adoption; deceased)
Eileen Riley Siegel (paternal aunt)
Tom Dennison (paternal uncle)
Bo Buchanan (paternal uncle, via adoption)
Ben Davidson (paternal uncle, via adoption; deceased)
Tony Lord (maternal uncle; deceased)
Tina Lord Roberts (maternal aunt)
Todd Manning (maternal uncle)
Victor Lord, Jr. (maternal uncle; deceased)
Meredith Lord Wolek (maternal aunt; deceased)
Timothy Siegel (paternal first cousin; deceased)
Julie Siegel (paternal first cousin)
Mari Lynn Dennison (paternal first cousin)
Brian Kendall (maternal first cousin; deceased)
Starr Manning (maternal first-cousin)
Danielle Rayburn (maternal first cousin)
Jack Cramer Manning (maternal first cousin)
Sam Manning (maternal first cousin)
Daniel Wolek (maternal first-cousin)
Clinton James "C.J." Roberts (maternal first cousin / paternal nephew; via adoption)
Sarah Roberts (maternal first cousin / paternal niece; via adoption)
Shane Morasco (paternal nephew, via adoption)
David Vickers (paternal cousin, via adoption)
Drew Buchanan (paternal cousin; deceased, via adoption)
Matthew Buchanan (paternal cousin, via adoption)
Demerest "Duke" Buchanan (nephew; deceased)
Kevin Buchanan Jr. (nephew; deceased)
Megan Victoria Buchanan (maternal half-niece; deceased)
Brennan "Bree" Buchanan (maternal half-niece)
Chloe Brennan (maternal half-niece; deceased)
Liam Asa McBain (maternal half-nephew)
Ryder Asa Lovett (maternal half-nephew)
Hope Manning Thornhart (maternal first cousin once removed; deceased)
Zane Buchanan (great-nephew)
Unborn child (with Jen Rappaport; Miscarried; 2003)
Alanna Brickner (first love, 1992-1993)
Dorian Lord (first sexual relationship, 1994)
Kelly Cramer (dated, 1995-1997; dated again, 1999-2000)
Cameron "Olivia" Wallace (brief romance, 1995)
Dorothy Hayes (flirtation, 1997)
Barbara Graham (lovers, 1998)
Sophia Pelligrino (one-night sta, 1999)
Sarah "Flash" Roberts (kissed, 2003)
Jennifer Rappaport (dated, 2003)
Aubrey Wentworth (dated, Nov 2010 to Feb 2011)
Kelly Cramer (dated, Jul 2011 to present)
None
Joseph Francis Riley, Jr. was the second child of Viki Lord Riley and Joe Riley (Kevin was the first). Joe Riley died a few months before Joey's birth, and Viki named their new son after Joe when he was born in January 1980. When Viki married cowboy Clint Buchanan a few years later, Clint adopted the boys and raised them as his own. Aside from some disappointment when his parents broke up and some confusion when his best friend Billy Douglas came out of the closet, Joey had a happy, uneventful childhood.
After Joey graduated high school in 1993, he traveled to Italy to study. He returned in 1994, worldlier for his experiences abroad. During that summer Joey was seduced by Dorian Cramer Lord, who was using him to get back at archenemy Viki. Joey lost his virginity to Dorian, and they were both surprised when they fell in love with each other. Joey was heartbroken in early 1995 when he got a "Dear John" letter from Dorian, saying she was moving to Spain. Unbeknownst to everyone, Dorian was actually being held captive by Jean Randolph, one of Viki's alternate personalities, who forced Dorian to break up with Joey. Jean even forced Dorian to marry con artist David Vickers. Later, while living with Kevin at the Llanfair carriage house, Joey began a relationship with Kelly Cramer, Dorian's wild niece who had recently moved to town. Joey saved Kelly's life after she had been held hostage by David, and they started dating.
Later in 1995, Joey was out jogging and he spotted a beautiful woman swimming nude in a pond, but she ran away before he could find out who she was. The next day he spotted her again; her name was Cameron Wallace. They began to have a bit of a romance going, but she left town after quickly being revealed as a con artist hired by Dorian to infiltrate Buchanan Enterprises. Joey and Kelly got over this hump and planned to go to Paris to study together. Kelly kept finding excuses to not go, most of them because of her Aunt Dorian. Joey ended up going to Paris alone. Joey and Kelly tried to write and keep the relationship going, but it didn't work out, especially since Joey's cousin Drew was doing his best to keep them apart. Soon Kelly got a letter saying it was over between them and was so upset that she accidentally caused a car accident which caused the death of her cousin Blair's unborn child.
Joey returned to Llanview in 1997 to a more mature Kelly. Soon after his arrival Joey tried to get Kelly back, but she refused. Joey briefly dated Dorothy Hayes and gently rebuffed efforts by Dorian to reconnect with him. In 1998, Joey began dating and Barbara Graham and fell madly in love with her, but Barbara was secretly obsessed with Kevin and made it her mission to sabotage Kevin's relationship with Cassie. Meanwhile, Kelly started dating Drew Buchanan, but the relationship was cut short when Drew was shot and killed by Barbara in a botched attempt to kill Joey. By spring 1999, Joey made another play for Kelly but he was too late, because had begun a serious relationship with Max Holden. As Kelly and Max prepared to marry, Joey consoled himself at a local bar and ended up having a drunken one-night stand with barmaid Sophia Pellegrino. Joey returned home to find Kelly waiting there for him, explaining that she had left Max at the altar. Joey and Kelly reconciled, and Kelly even forgave him after Joey admitted to his drunken encounter with Sophia.
In February 2000, Joey was devastated and heart-sick when he found out about his mother's breast cancer. Meanwhile, unbeknownst to Joey, Kelly and Kevin had become drawn to each other. Sophia locked them in a cellar together, sure that they would give in to their passion and she could capture it all on videotape, but they held off. Later, they gave into their passion and had sex. Soon after Viki went through her surgery, Joey and Kelly eloped! But their marriage was strained, and eventually Kelly admitted to Joey that she had feelings for Kevin. Joey was devastated and kicked Kelly out of the house. Joey had a hard time letting go of Kelly and tried to stall the divorce and used the fact that a hit man was after Kelly to stay close to her. After he helped save Kelly from the hit man, he decided the best thing to do was let the divorce go through and leave Llanview for a while. He left to go live with his father, Clint, in London. Two and a half years later, Joey returned to Llanview in February 2003 as a minister in training. Joey worked at Angel Square's homeless shelter and became interested in the plight of chronically coughing street musician Flash, but their budding romance was cut short after a few kisses when Flash admitted she was Joey's first cousin, Sarah Roberts.
Joey then turned his full attention to saving Jen Rappaport from her bad-girl impulses and her marriage to sleazy con artist Rex Balsom. They wed almost immediately after her divorce was finalized, but Jen was not thrilled with the life of a minister's wife. She also wasn't happy to be pregnant, but Joey was thrilled to be a father. When Jen miscarried, she tried to keep the truth from him. He got over the loss, but this only frayed their union even further. She slept with Rex. As hard as she tried to keep the tryst a secret, Joey found out. He realized their relationship was beyond repair and in December 2003, took a leave of absence from the rectory to once again visit Clint in London.
Joey briefly returned in May 2004 when Viki fell ill with a heart condition. While in town, he and Jen mended their hurt feelings over the dissolve of their marriage and wished each other the best.
In August 2007, Joey briefly returned to Llanview with Cord and Kevin to attend the funeral of his grandfather, Asa Buchanan. He touched bases with his family and even shared a tender moment of reflection with Dorian before returning to London, where he was now working at the family business.
Joey surprised his mother by showing up in Llanview for Thanksgiving in November 2010. Joey explained that he had been traveling abroad but had decided to return to town for an extended stay. Joey had met and fell in love with a young woman named Aubrey Wentworth less than a month earlier, and he brought Aubrey to town to meet his family - unaware that Kelly Cramer had recently realized that Joey was the love of her life. Joey introduced Aubrey to Viki and Clint as the woman he was going to marry and then shocked Aubrey by proposing marriage to her right then. Aubrey politely declined, saying she wanted time to get to know Joey before rushing into marriage. Joey accused his parents of not supporting his decision and worried he may have lost Aubrey.
When Kelly saw Joey with the engagement ring, she immediately thought Joey was going to ask her to marry him but Joey was shocked at the mere notion that he would want to marry Kelly again. When Joey introduced Kelly to Aubrey, he was surprised they already knew each other and Kelly blurted out how happy she was for both of them. Joey then asked Aubrey again to marry him, and this time Aubrey accepted his proposal. When Joey asked Kelly what she had wanted to talk to Joey about, Kelly lied that she was getting back together with his brother Kevin. Joey called out his father for failing to accept Aubrey into the family. Kelly, who was suspicious of Aubrey's true motives, discovered a photograph in a French magazine that showed Aubrey out with another man after she had begun dating Joey. Kelly showed the magazine to Joey, who dismissed the picture and then criticized Kelly for telling him about it. Joey bought the lie that the man in the photo was Aubrey's brother, Cutter, who had just recently come to town.
Joey was flabbergasted when Clint threatened to disown him if he didn't have Aubrey sign a prenuptial agreement. Joey told Aubrey, who brought it up during the christening ceremony for Joey's new nephews, Liam and Ryder. Clint publically apologized for disowning Joey and welcomed Aubrey into the family. During a bachelor party for John and Brody, who were set to marry Natalie and Jessica, Joey and Kelly were locked in a storage room at Rodi's by a well-intentioned Shaun and Vivian. Kelly confessed that she still loved Joey, but Joey said it was too late since he was already with Aubrey. At the wedding, Joey and the rest of the family was stunned when one of Clint's coworkers revealed that he had been ordered by Clint to change DNA tests that proved Clint was the father of Rex Balsom and that Robert Ford was the father of Jessica's baby. After Clint was arrested, Kelly gave Joey a flash drive and begged him to look at it. But when Cutter called up the footage on his laptop, all it showed was Aubrey professing to Cutter her love for Joey in her hotel room. Joey jumped to the conclusion that Kelly had bugged Aubrey's hotel room and wouldn't let Kelly explain that the flash drive actually came from Clint. Aubrey then suggested that she and Joey get married right then, and Joey agreed. The two exchanged vows as a despondent Kelly watched in the shadows. The next day, Joey learned from Natalie that Kelly had slept with John after Natalie and John's wedding imploded when John learned that Brody was the father of Natalie's baby.
Joey ordered John not to lay a finger on Kelly and then punched John in the face after John remarked that he had laid "more than a finger" on her. Joey and Aubrey moved into the Buchanan mansion and Aubrey maneuvered Joey into destroying the original copy of the hard drive before he could view what was on it. Joey worried after Jessica turned into her alternate personality, Tess, and began hanging out with Cutter. He warned Cutter to stay away from Tess, but later Joey agreed with Cutter's plan to stay close to Tess to try to get her to turn back to Jessica. Joey and Aubrey got into a heated fight after Aubrey learned from Kelly that she and Joey had kissed the night before Joey's wedding. But Joey insisted he wanted to be with Aubrey and felt nothing for Kelly. Joey remained oblivious about Aubrey's deceptions. Robert Ford told Joey that Aubrey had dumped him years earlier when she learned he wasn't wealthy, but Aubrey convinced Joey that Ford couldn't be trusted.
Joey was devastated when his father suffered a heart attack and later revealed that he would die without a heart transplant. Aubrey stood by his side during the ordeal. At the same time, Viki was fighting Tess and Robert Ford for custody of their baby, Ryder. When the judge refused to grant custody to Viki or the baby's parents, Aubrey stood up and said that she and Joey would take in the baby to prevent him from going to foster care. The gesture touched Joey. But Joey soon was stunned when Cutter revealed that he was a con man who had been after the Buchanan fortune all along. Cutter even blackmailed Clint for $1 million and the deed to the family home in exchange for having his quickie marriage to Tess annulled. Aubrey told Joey she had no idea that her brother was a con man, but Joey soon learned the truth from Clint. Joey told Aubrey their marriage was over, but she won a temporary reprieve when she reminded him that they would lose custody of Ryder if the judge learned their marriage was over. Aubrey and Joey moved into Llanfair, but Joey kicked Aubrey out after Jessica returned and reclaimed her children.
After Kelly nearly died after being stabbed by a delusional Marty, Joey realized he truly loved her and wanted to be with her. Kelly at first resisted, not wanting to be Joey's fall back girl, but Joey eventually won her over and they rekindled their relationship.
After Joey and Kelly went to London to visit Kelly's son, Zane, Kelly decided that she needed to be closer to her son permanently. She told Joey she planned to move back to London, and Joey decided to go with her. Aubrey visited Joey before he left and tried to return the wedding ring he had given her, but Joey told her to keep it. Joey bid farewell to his mother and father and headed off to London with Kelly.

Post a Comment

Share on Facebook

Tweet this

Submit Feedback