Cordero "Cord" Roberts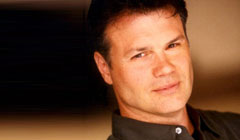 John Loprieno
Born off-screen Nov 1, 1961
Cord's birth year was reestablished as 1969 during the "1968 storyline" in July 2008
Cord was presumed dead in 1991 but resurfaced in 1993
Executive at Buchanan Enterprises
Owner of Norscott drilling company
Former CEO of Buchanan Enterprises
Former photographer for the Banner
London, England
Previously Llanview, PA
Born and raised in El Paso, Texas
Married to Tina Lord [Married: Nov 15, 2011]
Tina Lord [Married: August 1986; divorced: 1987]
Kate Sanders (Married: May 1987; invalid)
Tina Lord (Married: November 1988; divorced: 1990)
Clint Buchanan (father)
Maria Vasquez (mother; deceased)
Al Roberts (stepfather; deceased)
Asa Buchanan (paternal grandfather; deceased)
Olympia Buchanan (paternal grandmother, deceased)
Rosa Vasquez (maternal grandmother; deceased)
Kevin Buchanan (paternal half-brother; via adoption)
Joey Buchanan (paternal half-brother; via adoption)
Jessica Buchanan (paternal half-sister)
Natalie Buchanan (paternal half-sister)
Rex Balsom (paternal half-brother)
Bo Buchanan (paternal uncle)
Ben Davidson (paternal half-uncle; deceased)
George Vasquez (maternal uncle)
David Vickers (paternal first cousin)
Drew Buchanan (paternal first cousin; deceased)
Matthew Buchanan (paternal first cousin)
Duke Buchanan (paternal half-nephew; via adoption)
Kevin Buchanan Jr. (paternal half-nephew; via adoption; deceased)
Megan Victoria Buchanan (paternal half-niece; deceased)
Brennan "Bree" Buchanan (paternal half-niece)
Zane Buchanan (paternal half-great-nephew; via adoption)
Chloe Brennan (paternal half-niece; deceased)
Ryder Asa Lovett (paternal half-nephew)
Liam Asa McBain (paternal half-nephew)
Shane Morasco (paternal half-nephew)
Drew Buchanan II (paternal first cousin once removed)
Clinton James "C.J." Roberts
Kate Sanders
Sarah Gordon
Cameron Wallace
None
Shot in chest in 1991 and presumed dead
Suffered from post-traumatic stress disorder in 1993
In 1986, Tina Lord traveled to El Paso, Texas, after intercepting a letter someone named Maria Roberts had sent to Tina's brother-in-law, Clint Buchanan. The letter was merely a job request for Maria's son, Cordero. Before she could return to Llanview, Tina was introduced to Maria's cowboy son, the dashing, tall, dark, handsome Cord Roberts. Toothy, soft-spoken, manly Cord was everything Tina had ever desired, and she found herself touring the scenic American Southwest with her new friend. While taking photos of her in his family barn, he confessed his love for her, but gold digger Tina could not picture herself choosing a poor cowboy. When her wealthy fiancé Richard Abbott asked her to return to Llanview, Tina bid Cord a sad goodbye.
Cord wouldn't quit without a fight, and followed her to Llanview, taking a job as a photographer at Clint's paper, the Banner, while he wooed her. Tina resisted his attempts as best she could until she returned to Texas to attend the funeral of Cord's beloved father, Al Roberts. Al had confessed to a minister the heart wrenching secret that he was not Cord's biological father. The "minister" was actually uber-villain Mitch Lawrence, who dropped the bombshell to old foe Tina that Cord's real father was...Clint Buchanan!
Some 25 years earlier, Clint and Maria had been teenage lovers, but Clint's father Asa was so repulsed at his son's relationship with a Mexican woman that he'd bullied Maria and her mother into fleeing Texas. Clint never knew Maria was carrying his child. When Tina connected all these dots, she blackmailed a mortified Asa into claiming that Al Roberts had left a million dollars for Cord in his will. Tina eloped with Cord, gleeful that her machinations had given her money and love!
A few months later, Clint's wife Viki told him the whole story. Father and son had a warm, if bewildered reunion. Cord then found out Tina had known for some time and had pawned a million dollars out of Asa. She reluctantly agreed to give the money back, but as Cord handed his grandfather the check, Tina sank every last penny from their joint savings account into an exotic island known as Devil's Claw. Tina took her husband on a fun adventure that quickly turned to disaster when they discovered the island was swarming was terrorists. Husband and wife barely escaped with their lives, and Cord informed Tina that he no longer wanted to be husband and wife.
Cord went on a Devil's Claw treasure hunt with beautiful archaeologist Kate Sanders, with the sexual tension almost being too much to bear. Tina's heart ached at Cord's absence, especially when doctors told her she was 2 months pregnant. Tina left a message on Cord's answering machine, not realizing that Cord's mother Maria was standing by to erase the message. Maria saw Tina as being the worst kind of cheap trash. When Max Holden arrived in Llanview to ask for some land, Maria agreed on condition of his keeping Tina away from Cord. Tina, believing Cord wanted nothing to do with his unborn child, agreed to go to Buenos Aries with Max. While there, they were kidnapped by drug runners. Cord and Kate traveled to the city to rescue Tina, and performed a sizzling tango. Cord reunited with Tina for a few moments, long enough to learn he was going to be a father, before they were separated and Tina was presumed to have tumbled down a waterfall to her death. Cord was devastated, but with support from Kate, picked up the pieces of his life. Kate's snooty grandmother Elizabeth, who thought Cord was classless, arranged for Kate to leave for an Egyptian dig. The thought of losing Kate pushed Cord into proposing marriage.
Their beautiful wedding ended in hysteria when a very alive Tina showed up at the church, moments after the ceremony, with their baby son in her arms. An anguished Cord chose to stay with Kate, but their marriage was invalid because Cord and Tina were still legally married. As Cord waited for the divorce to be finalized, Tina pulled every trick in the book to keep Cord at her side. Cord eventually found out that Tina's son was not hers at all (Tina believed she had miscarried her baby, and took her friend Gabrielle Medina's child as a replacement), but Tina and Max soon tracked down the real child when a jungle native came to Llanview trying to hit her up for money. By this time Tina and Max were engaged, and Tina truly believed she loved Max, but on their wedding day, with Cord as Max's best man, Tina brought the house down by declaring "I take thee - Cord." Kate had already had enough and left town. Cord was dating virtuous physical therapist Sarah Gordon, who knew the bond between Cord and Tina was unbreakable and stepped aside to let them remarry. Over the next few years, Tina was involved in various other schemes, such as trying to locate lost jewels, venturing into the forgotten underground city of Eterna, and helping Gabrielle cover up a baby switch. Cord patiently stood by her side, but when her jealously caused her to nearly run his platonic friend Debra Medina out of town, Cord had enough. He ended his marriage to Tina and she moved to San Diego with their son, C.J.
Months later, Cord and the Buchanans infiltrated the island of Badderly, and ran into a mobster named Johnny Dee. Johnny's guest on the island was Tina. Tina was thrilled to see Cord again, but didn't want to get him into any trouble with Johnny. When Johnny was about to rifle through Cord's room, Tina waylaid him with sex. Tina then shared a happy reunion with Cord, ending in sex. Predictably enough, Tina ended up pregnant, with no idea who the father was. When they got back to Llanview, Tina told Cord the truth and he pledged to raise the child no matter who the father was. Johnny tried to kidnap Tina, but her sister Viki's alternate personality Niki Smith shot him dead. Johnny's father Carlo made life hell for Tina, but Cord delivered their baby in a blinding snowstorm and informed Tina that he was the biological father. They remarried with C.J. and a beautiful baby girl, Sarah, by their side.
In late 1991, Cord and sexy interpreter Blair Daimler (later Cramer) went to Japan for a business trip. Blair tried to seduce him, to no avail. Their trip was cut short when they received an urgent call to try to free Jake Harrison (married to Cord's stepsister Megan) from a Jaba City jail. They managed to spring him, but while they were escaping, Cord was shot in the chest. He fell into the river and Blair was unable to find his body. A devastated Buchanan family mourned their losses and moved on with their lives.
Tina in particular moved on with sexy con artist Cain Rogan. In 1993, Tina and the rest of the family was stunned when Cord resurfaced, very much alive. Cord was suffering from post-traumatic stress disorder, however, so the family agreed to keep Tina's relationship with Cain a secret from Cord. When Cord eventually found out that Tina was engaged to another man, he hit the roof. He dug up Cain's old partner in crime, Angela Holliday, to bust up Cain and Tina. Cord had to face his case of post-traumatic stress disorder while Tina had to choose between the two very different men she loved so much. Ultimately, she chose Cain, and they married and left town. Tina would return a year or so later, but she and Cord would remain friends and parents only, nothing more.
In 1994, Cord kept Blair a virtual prisoner in his home to try to stop her from interfering in the reconciliation of his good friends Max and Luna. Blair dropped a vase on his head, but after she accidentally ran Luna over and nearly killed her, Blair decided she wanted to be a good person. "Good guy" Cord made love to her and tried to keep her on the honest, moral path. Blair quickly realized she was incompatible with a squeaky-clean man like Cord, and they parted ways.
In 1996, Cord took over Buchanan Enterprises due to grandfather Asa's various personal problems. He began dating beautiful Wall Street whiz and Buchanan employee Cameron Wallace, before discovering she was a double agent. Cord trapped her into admitting she was working for Dorian Lord, a longtime family enemy who was trying to destroy the company. Cord, Clint and Asa stopped the bid and ran Cameron out of town. Asa then tried to run Cord out of the company so he could return as CEO. Not interested in a battle, Cord stepped down as CEO. He bought out a drilling company in London. Saying goodbye to his family and friends with a heavy heart, he left in early 1997.
Cord returned briefly in early 2004 when he received word about his daughter Sarah. Cord had not seen his children in a number of years, and Sarah had become "Flash", an angry young woman who'd run away from Tina and had made her way to Llanview as a homeless Goth rocker. A serial killer had beaten Sarah so badly that her larynx was severely damaged. Sarah and Cord shared a tearful reunion before he whisked her away to London for treatment and much-needed time as father and daughter.
Cord returned briefly in August 2007 for Asa's funeral and checked in on Sarah, who had recently returned to Llanview. After Tina and Sarah survived a harrowing ordeal in Mendorra in 2008, Cord returned to town to check in on his daughter. It had been years since he had laid eyes on Tina, and the magic connection between them was palpable. But after learning about all the drama that had been going on, Cord told Tina that she had not changed and that they could never be together again. He left Llanfair, and Tina cried in despair.
Cord returned to Llanview in September 2011 to inform Clint that Rex Balsom was destroying Buchanan Enterprises after having taken it over in return for giving Gigi's heart to Clint. Cord called Rex a thief and a con man and was surprised with Clint jumped to Rex's defense, calling him his son and telling Cord he needed to accept Rex as his brother. Later, Cord was stunned when Viki returned home with Tina, who had arrived in town after hearing the news that her brother Victor Lord Jr. had been murdered. Cord was still upset at Tina for all the mischief she had gotten involved in the last time she was in town, but Tina pledged to make him see that she was a changed person.
Tina and Cord grew closer during their time at Llanfair. During an engagement party for Natalie and Brody, Tina tried to talk Brody into letting Cord serve as best man since she was serving as Natalie's matron of honor. Cord dragged Tina into the stables to chew her out, accusing her of trying to get back together with him. Tina didn't deny it and challenged Cord to tell her that they didn't belong together. Cord pulled Tina into a passionate kiss and they fell to the ground, making love in the stables. Rex was embarrassed when he walked in and found them, but Cord and Tina laughed about it. Tina assumed this meant they were back together, but Cord still was reluctant to commit to her. Later, Cord had a change of heart after learning that Tina had voluntarily given everything Victor Jr. had owned back to Todd when it passed to her after her mother Irene's death. Tina told Cord that the money didn't matter if she didn't have him, and Cord agreed to begin seeing her again.
Natalie and Brody's wedding turned into a fiasco when Tina stormed into the church holding baby Liam's paternity test results, which proved that John was the baby's father and not Brody. Tina handed the tests to Natalie, realizing it was the right thing to do. Natalie called off the wedding after Brody admitted that he had known he wasn't Liam's father for months. Cord impulsively proposed to Tina and she agreed to get married. Viki called Dorian, who was now a U.S. senator, and arranged to get a marriage license so the wedding could occur then and there. Clint gave his blessing, and Tina and Cord were married for the fourth time.

Post a Comment

Share on Facebook

Tweet this

Submit Feedback